Necrotising Fasciitis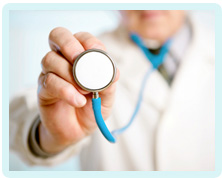 I've Been Left with an Ileostomy after Necrotising Fasciitis
Have you been left with an ileostomy after developing necrotising fasciitis? Was there a delay in diagnosing and treating your illness? If so, you could be entitled to pursue a claim for compensation.
For more information on making a medical negligence compensation claim, please contact us at Glynns Solicitors. We have significant experience in necrotising fasciitis claims and can tell you whether or not you are eligible to pursue legal action.
Necrotising fasciitis in the abdomen
Necrotising fasciitis is a bacterial infection. It affects the deep tissues and can arise anywhere in the body. Necrotising fasciitis can develop in the abdominal area due to another infection, such as an abscess. Or it can develop because the bacteria have entered through a surgical wound, such as a C-section scar.
When a necrotising fasciitis infection appears in the abdomen, the area will become very painful and swollen. Normally the patient will also have a fever, which is a typical side-effect of an infection. As the bacteria progress, the skin will become red in colour, after which it will turn dark red and purple/black.
Debridement of the abdomen
Necrotising fasciitis is treated with debridement surgery, where the infected tissue is removed. Antibiotics are also needed. Because all of the infected tissue must be cut away, problems will arise if the bacteria have spread to a very large area. A significant amount of tissue and muscle will have to be cut off, leaving a big scar and a distorted appearance.
The bacteria may also have spread to the organs inside the abdomen. If this is the case, part of the internal organs may have to be debrided as well. The small and large intestine are both at risk of becoming infected, and if they do the bowel will need to be resected. The patient will then require a colostomy or ileostomy, as the bowel will not be able to function properly.
A colostomy is when part of the large intestine is redirected through a hole in the abdominal wall. A bag is attached over the hole which collects faeces. An ileostomy is the same thing, only it is the small intestine that is redirected through a hole in the abdomen.
Ileostomy or colostomy because of delays
Necrotising fasciitis does spread very quickly and it may be too late to save the intestines from damage, even if treatment is given as soon as a patient presents to hospital. But if there are delays in diagnosis and treatment, the area of infected tissue will grow. During this time the bacteria may travel to the intestines, an outcome that could have been avoided with earlier treatment.
If you have been left with an ileostomy or colostomy because medical practitioners did not diagnose and treat your necrotising fasciitis quickly enough, please contact us at Glynns Solicitors.
Please call us free on 0800 234 3300 (or from a mobile 01275 334030) or complete our Online Enquiry Form.

---
Testimonials
"Before we contacted you we had no real idea that we had grounds for a medical negligence claim but after speaking to you if became clear that Wendy was indeed treated poorly. Chris took the time to explain what was happening and kept us to speed. Our deepest gratitude to you all and Chris in particular."
"I would like to say a big thank you to you for making this whole process easy and relatively painless. You kept me informed throughout and you were always polite and courteous in all forms of communication. I would not hesitate to recommend you to friends and family, so a really big thank you and I wish you all the best in the future."
» Read More Medical Negligence Testimonials?

Free Nectorising Fasciitis Guide