Necrotising Fasciitis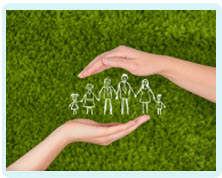 Is There a Cure for Necrotising Fasciitis?
Necrotising fasciitis is a rare but devastating illness that can kill the patient within days. Is there a cure for this appalling condition?
What is necrotising fasciitis?
Necrotising fasciitis can develop when bacteria enters the deep tissue layers of the body. The bacteria will then release toxins which will not only destroy the surrounding tissue, but will also spread to other areas of the body, wreaking havoc, potentially leading to multiple organ failure.
Is there a cure?
If we consider a cure to mean a specific form of medication that will definitely overcome the invading bacteria and bring about the recovery of the body, the answer, sadly, is "No".
One of the problems of necrotising fasciitis is that it can be caused by a variety of pathogens and so it is difficult initially to target the cause precisely. It can also be caused by a combination of bacteria, adding to its complexity and, where possible, the need for emergency blood tests to try to clarify the specific cause.
There are, however, strategies for treating necrotising fasciitis, which can prove successful provided the condition is diagnosed promptly and treated as an emergency.
Doing nothing is not an option as this will almost certainly lead to the death of the patient due to multiple organ failure in a very short time.
Treatment Methods
Antibiotics
Urgent treatment with broad-spectrum antibiotics can attempt to prevent the spread of the infection. It will not resolve the damage that has already been done and, on its own, is unlikely to halt the illness.
Surgical debridement
The tissue that has already been affected by the infection will need to be removed. This is vital in order to try to prevent the bacteria from spreading further into the body. The longer the patient has had the condition, the greater the spread is likely to be and the greater area of tissue that will have been damaged.
Sadly, this can lead to extensive areas of tissue having to be removed, most frequently in the abdominal area or in the lower limbs. Occasionally a limb will need to be amputated to halt the spread of the disease. Nonetheless, this may help to save the patient's life.
Intensive Care
A patient with necrotising fasciitis is likely to require a significant amount of time under intensive care, receiving fundamental life support whilst their body fights off the awful disease.
The patient is likely to have a significant wound following surgery and this will require very careful medical management to prevent further problems as well as further surgery to try to repair the damaged area.
Medical Responses
It is clear that necrotising fasciitis requires an emergency medical response in order to give the patient a chance of survival.
Where there is an inadequate response in terms of investigation, diagnosis or treatment, the patient may have been the victim of poor negligent medical care.
Contact a solicitor
If you or a loved one have suffered the shocking effects of necrotising fasciitis which you believe could have been treated more efficiently, you may be entitled to make a claim for compensation.
Glynns Solicitors is a specialist medical negligence practice and we would be happy to discuss your experience with you.
Please call us free on 0800 234 3300 (or from a mobile 01275 334030) or complete our Online Enquiry Form.

---
Testimonials
"Before we contacted you we had no real idea that we had grounds for a medical negligence claim but after speaking to you if became clear that Wendy was indeed treated poorly. Chris took the time to explain what was happening and kept us to speed. Our deepest gratitude to you all and Chris in particular."
"I would like to say a big thank you to you for making this whole process easy and relatively painless. You kept me informed throughout and you were always polite and courteous in all forms of communication. I would not hesitate to recommend you to friends and family, so a really big thank you and I wish you all the best in the future."
» Read More Medical Negligence Testimonials?

Free Nectorising Fasciitis Guide