Necrotising Fasciitis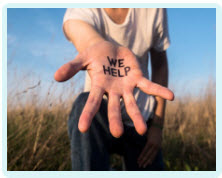 Is Necrotising Fasciitis Contagious?
You may have heard of 'the flesh-eating bug'. There are thought to be approximately 500 new cases of it per year in the UK. So, what is this bug, is it easily transmittable from one person to another and, if so, what can be done to prevent it?
What is Necrotising Fasciitis?
Necrotising fasciitis is a rare but extremely serious condition, caused by a bacterial infection. It is sometimes referred to as 'the flesh-eating bug' as, if left untreated, it will attack and destroy the deep soft tissue within the body. This can quickly lead to a need for the damaged tissue to be surgically removed and may require the amputation of affected limbs, resulting in long-term disability. Ultimately, if the infection goes unchecked, blood-poisoning and organ failure can ensue and the patient will die. It is thought that approximately 20-40% of patients with necrotising fasciitis will die.
How is Necrotising Fasciitis Spread?
A variety of bacteria can cause necrotising fasciitis. These bacteria can live on the skin of even healthy people without causing a problem. However, once the bacteria is allowed to enter the body, the problems begin. The bacteria causing necrotising fasciitis can pass into the body through even a small cut or bite that the patient may not even be aware of. It is not only a problem when someone has a significant wound or is undergoing surgery.
Necrotising fasciitis is not generally contagious. Although the bacteria that cause necrotising fasciitis can be spread from one person to another through direct contact, those bacteria will only become a problem when they enter into the body.
How to prevent Necrotising Fasciitis
As we have said, the threat from necrotising fasciitis comes in the presence of a cut or wound so the following actions may help in prevention of the disease:
Be particularly careful to keep wounds clean and use sterile dressings
Ensure high levels of hygiene and monitoring for infection during surgery
Be aware of your own hygiene when working with/caring for someone with necrotising fasciitis
Wash hands thoroughly and keep a generally high level of hygiene
Dealing with Necrotising Fasciitis
Necrotising Fasciitis needs urgent diagnosis and attention. The patient should be put on a course of high-dose, broad-spectrum antibiotics immediately. Debridement (removal) of any damaged tissue is also necessary to prevent further spreading of the disease. The patient may need to be isolated in an intensive care setting.
Medical Negligence and Necrotising Fasciitis
If you have been affected by Necrotising Fasciitis where diagnosis and/or treatment were unnecessarily delayed, leaving you with long-term effects, you may be entitled to make a claim for compensation which could help you to rebuild your life.
For advice from a specialist solicitor, please contact us at Glynns Solicitors.
Please call us free on 0800 234 3300 (or from a mobile 01275 334030) or complete our Online Enquiry Form.

---