Necrotising Fasciitis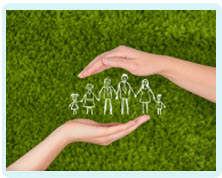 How to Avoid Flesh Eating Bacteria
Necrotising Fasciitis, sometimes referred to as a flesh-eating bug, is painful, disfiguring and potentially fatal. It works by attacking the body's skin and soft tissues. Some who have suffered from Necrotising Fasciitis have described their experience as akin to a horror movie.
So how can a person avoid the flesh-eating bacteria that can lead to Necrotising Fasciitis?
The cause of Necrotising Fasciitis
The most common cause of Necrotising Fasciitis is the Group A Streptococcus bacteria, which commonly causes strep throat (a bacterial throat infection).
Other bacteria that can cause Necrotising Fasciitis include:
Aeromonas hydrophila
Clostridium
Escherichia coli
Klebsiella
Staphylococcus aureus
Often, the offending bacteria enters the body through broken skin, caused by a cut or surgical wound, however it can also enter through the respiratory system, received via a sneeze or a cough.
Those who are old or have a weakened immune system are more at risk of developing Necrotising Fasciitis. It is rare for a perfectly healthy person to be struck down by a flesh-eating bug but it does happen.
In the beginning, Necrotising Fasciitis causes flu-like symptoms and severe pain in the affected area. Swollen, dark tissue and blisters filled with black fluid develop on the infected body part, destroying the nerves.
Without treatment, blood pressure can drop and the body goes into shock as a result of the toxins released from the bacteria. Death occurs in 20-50% of cases; those that don't succumb can face amputations, skin grafts and permanent disfiguration.
Protecting yourself from flesh-eating bacteria
Without becoming paranoid, the best way to avoid ever developing Necrotising Fasciitis is to limit your chances of ever being exposed to the bacteria that can cause it. The old adage of washing your hands thoroughly and regularly is a proven protective factor. Make sure you clean wounds well and change dressings regularly. Do not pop blisters. Avoid hot tubs and swimming pools if you have a wound.
Claiming compensation for negligence
If it is suspected that you developed Necrotising Fasciitis in hospital due to bacteria being able to enter your wound after surgery, or your GP or local A&E department failed to diagnose it, you may be able to claim compensation.
To bring a successful claim you will have to prove, on the balance of probabilities, that the health professionals who owed you a duty of care breached that duty and this breach resulted in contracting Necrotising Fasciitis or developing complications because you did not receive treatment as promptly as you could of if the symptoms had been recognised.
Your solicitor will organise expert medical evidence to be presented to the NHS Trust or private clinic responsible for your treatment or delayed diagnosis. You should also note that a majority of Necrotising Fasciitis claims are settled outside of court.
Compensation can assist you in rebuilding your life after facing such a shocking disease. Money can never replace what you have lost, but it can help towards building a strong, bright future.
At Glynns Solicitors we have the expertise required to successfully act for people who have developed necrotising fasciitis as a result of medical negligence.
Please call us free on 0800 234 3300 (or from a mobile 01275 334030) or complete our Online Enquiry Form.

---
Testimonials
"Before we contacted you we had no real idea that we had grounds for a medical negligence claim but after speaking to you if became clear that Wendy was indeed treated poorly. Chris took the time to explain what was happening and kept us to speed. Our deepest gratitude to you all and Chris in particular."
"I would like to say a big thank you to you for making this whole process easy and relatively painless. You kept me informed throughout and you were always polite and courteous in all forms of communication. I would not hesitate to recommend you to friends and family, so a really big thank you and I wish you all the best in the future."
» Read More Medical Negligence Testimonials?

Free Nectorising Fasciitis Guide