Necrotising Fasciitis Cases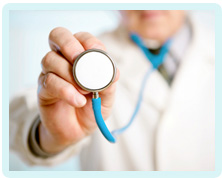 Gallbladder Surgery Leads to Necrotising Fasciitis
After having her gallbladder removed, Sonia developed necrotising fasciitis, a serious bacterial infection that attacks the tissue. This could have been prevented had she been given precautionary antibiotics before the operation.
When Sonia underwent a laparoscopic cholecystectomy (when the gallbladder is removed via keyhole surgery), she was at increased risk of post-operative infection, due to having type 2 diabetes and a high body mass index. She should therefore have been given prophylactic antibiotics before the procedure. This is a standard precautionary measure to help prevent wound infections.
Unfortunately antibiotics were not administered before the operation. The surgery was carried out without incident and Sonia was discharged from hospital the following day.
However, two days after the operation she began to feel extremely unwell. She was experiencing terrible pains in her abdomen and was feverish. She tried to carry on for another few days, but she knew something was very wrong and so returned to hospital. After being examined, she was rushed around to the A&E department.
To her surprise, Sonia was then admitted to hospital. Antibiotics were prescribed and administered, and an operation was performed to drain the fluid accumulating in the infected area, around the centre of her stomach.
Sonia's condition continued to deteriorate over the following days. Her white blood cell count became higher and higher, indicating that she was suffering from a severe infection. Despite the clinical indicators, it took medical professionals five days to diagnose necrotising fasciitis, a severe bacterial infection that attacks the deep soft tissue.
By the time a diagnosis was made Sonia's condition was critical and she was transferred to the intensive care unit. She underwent further operations to remove the necrotic tissue. This left her with a large open wound on her abdomen, for which she needed vacuum assisted closure.
Although the wound did eventually close, Sonia now has an unsightly defect across her tummy. This continues to cause her considerable pain and she must take medication to cope with the discomfort. This has had a profound effect upon her mental wellbeing, as she has become very self-conscious and depressed about her appearance.
Sonia's illness has also had a significant impact upon her daughter. Being too unwell to care for herself, Sonia had to stay with her daughter for five months after coming out of hospital. She relied upon her for everything, even cleaning out the fluid that had accumulated in the VAC machine.
As well as physical and emotional pain, Sonia has also suffered financial damage. She had expected to need just two weeks off work in order to recover from the gallbladder removal. However, due to the complications, she was no longer able to work and her contract was terminated. This has caused serious financial difficulties for her.
All these complications could have been avoided had Sonia been given prophylactic antibiotics before the operation. Medical professionals should have known to do this, especially as Sonia was particularly at-risk of developing an infection.
The area of necrotic tissue could also have been reduced had a diagnosis of necrotising fasciitis been made in a timely fashion. The five day delay allowed the bacteria to spread and a large area of tissue eventually had to be removed.
We helped Sonia make a claim for the damages she incurred because of the hospital's negligence. She was awarded over £40,000 compensation.
(Details which might identify our client have been changed.)
Would You Like Assistance from Specialist Necrotising Fasciitis Negligence Claims Solicitors?
If you would like to benefit from a service of excellence with total commitment to client care from a small and friendly team, Glynns are ready and waiting to help you.
Early legal assistance is essential. Please call us free on 0800 234 3300 (or from a mobile 01275 334030) or complete our Online Enquiry Form.

---