Necrotising Fasciitis Cases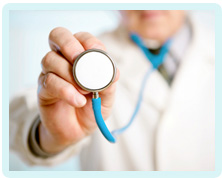 Failure To Diagnose Necrotising Fasciitis
One morning, Andy began to experience an ache in his left index finger. He started to experience flu-like symptoms, and his finger started to swell until it became discoloured and very painful. Andy attended A&E, where he was seen by a nurse. A diagnosis of gout was made and he was sent home without having any tests done.
By the evening of the same day Andy's symptoms had deteriorated. He was now in immense pain, feeling hot and sick, and his finger had turned a dark purple in colour. He rang NHS Direct, who told him to take Ibuprofen and see his GP in the morning.
However, Andy was unable to wait and he returned to a different hospital which had an out of hours GP service. He was seen by a doctor at 11.15pm who noted that both his finger and hand were turning black. Morphine was administered and a nerve block put in place, both of which eased the pain slightly. Andy was then transferred to another hospital in an ambulance.
He arrived at hospital at 00.30am, where a junior doctor diagnosed an infection of the fingernail. An incision was made to Andy's finger with a scalpel in an attempt to drain the pus. The pain was unbearable, causing Andy to faint. He was then put on a ward where his hand was elevated, but he received no antibiotics or other medication.
No further assessment was made until 10am, when a doctor informed Andy he needed emergency surgery on his finger. He was eventually taken to the operating theatre at 2pm, a whole fourteen hours after being admitted to hospital. An incision and drainage of Andy's left finger and a washout of his flexor sheet was performed, and he was treated post-operatively with an IV drip and antibiotics.
Swabs taken during the operation revealed that Andy was suffering with Necrotising Fasciitis, and not an infection of the fingernail. Now aware of the correct diagnosis, doctors told Andy he might require an amputation of his finger. Even so, he was discharged from hospital.
Because Necrotising Fasciitis is an infection that rapidly attacks the soft tissue, it requires immediate treatment. When Andy attended the hand specialist six days later, it was confirmed that due to the delay in receiving medical care - namely debridement (surgical removal) of the affected area and antibiotics - Andy's finger had become necrotic and the tissue was dying. Amputation of his left index finger was recommended, and the procedure was performed a week later.
Had a diagnosis of Necrotising Fasciitis been made in a timely fashion, the amputation of Andy's finger would not have been necessary. Due to this sub-standard level of care, Andy experienced unnecessary pain and suffering, as well as the continued distress of having lost a finger. Glynns helped Andy file a clinical negligence claim, which was settled for over £40,000.
(Details which might identify our client have been changed.)
Would You Like Assistance from Specialist Necrotising Fasciitis Negligence Claims Solicitors?
If you would like to benefit from a service of excellence with total commitment to client care from a small and friendly team, Glynns are ready and waiting to help you.
Early legal assistance is essential. Please call us free on 0800 234 3300 (or from a mobile 01275 334030) or complete our Online Enquiry Form.

---