Necrotising Fasciitis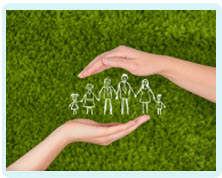 Disabled by Necrotising Fasciitis
Necrotising fasciitis is a shocking and destructive illness with a high mortality rate. Even those who survive, risk facing life with severe disability due either to amputation or significant surgical removal of tissue necessary to prevent the spread of this appalling infection.
Disability caused by soft-tissue infection
Necrotising fasciitis frequently affects the limbs both upper and lower. When this fast-moving infection has spread extensively throughout one or more limbs, it is often considered by medical professionals to be necessary to amputate a limb in order to save the life of the patient.
Necrotising fasciitis also often attacks the torso, abdomen, buttocks and perineal or genital region.
The only way to stop this terrible infection is to remove all infected tissue surgically. Where diagnosis and treatment have been delayed, the infection may already have spread to a considerable extent through the body and this may result in the patient losing a significant amount of body tissue.
Although reconstructive surgery will probably be carried out, the patient can be left with debilitating disability and unsightly scarring. If extensive debridement has been necessary in the anal or abdominal region, the patient may not be able to use their bowel independently and naturally, and may require a colostomy to facilitate bowel function.
Minimising the risk of disability
If the patient attends their medical practitioner in the early stages of necrotising fasciitis, the extent of tissue damage and of surgical debridement (tissue removal) they are likely to experience will depend to a large degree on the speed with which they receive a diagnosis and treatment.
Surgery is vital in surviving necrotising fasciitis but this will only commence if the medical professionals consider the likelihood that the patient is suffering from this dreadful illness.
A failure to consider that necrotising fasciitis might underlie the patientís symptoms can leave the patient facing an increasing risk of scarring, tissue loss and amputation.
Diagnosis
A patient who has an open wound to the skin, whether small such as a graze or injection site, or a larger wound such as an abscess or a surgical incision, risks allowing the bacteria which cause necrotising fasciitis to enter the body.
Where such a patient is experiencing intense pain, swelling, redness and tenderness in that area alongside flu-like infection symptoms, the possibility of necrotising fasciitis as a diagnosis should be taken into consideration.
Medical negligence
A failure to do so could be considered to have been negligent.
If the patient suffers a poor long-term outcome due to such a failing, it may be appropriate to make a claim for compensation which can help the patient to cope with the shocking effects of this terrible illness.
Contact us today to talk to a specialist medical negligence solicitor if you or a loved one are suffering from the long-term impact of a medical failing in necrotising fasciitis.
Please call us free on 0800 234 3300 (or from a mobile 01275 334030) or complete our Online Enquiry Form.

---