Necrotising Fasciitis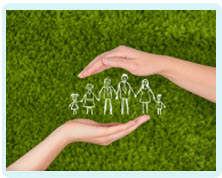 Disability after Delayed Surgery for Necrotising Fasciitis
Without surgery, a necrotising fasciitis infection is likely to continue to spread, causing increasing destruction and decay through the patient's body. The later surgery is commenced, the greater the chance that the patient will suffer a very poor outcome.
The physical effects of necrotising fasciitis
Delayed surgical debridement for necrotising fasciitis can cause a number of serious outcomes:
The patient is likely to suffer a greater extent of tissue damage due to the continuing infection
The patient is likely to require a greater degree of tissue removal through surgery as more tissue will have been damaged in the intervening period since diagnosis
The patient may require a greater number of debridement procedures before they are declared free of infection, thereby risking infection and the effects of anaesthetic
The patient may be more likely to require an amputation
The patient will probably require a longer stay in hospital and in intensive care
The patient is probably more likely to die
The loss of tissue can also cause significant functional disability depending on where the loss of tissue has occurred. The patient may suffer problems with the bowel if it has been damaged by tissue loss. The patient may suffer sexual problems if they have suffered necrotising fasciitis in the perineum or genitals (also known as fournier's gangrene). At best, the patient is likely to be left with scarring following the debridement procedures necessary to halt the infection.
What is debridement?
Debridement is the surgical removal of infected tissue. Antibiotics are unlikely to resolve a necrotising fasciitis infection and surgery is almost always necessary if the patient is to survive.
Patients with necrotising fasciitis generally need more than one debridement procedure before all their infected tissue is removed. The more thorough their debridement surgery is, the fewer procedures they may require and the sooner they may recover from this shocking illness.
Medical negligence
A delay in initiating surgery for necrotising fasciitis may be regarded as negligent. If the patient consequently suffers a worse long-term outcome than might otherwise have been expected, it might justify a claim for compensation for their pain, suffering and past and future financial losses.
Diagnosis delay
A delay in treatment may also be the result of a delay in diagnosis. If the patient's symptoms of necrotising fasciitis are not recognised by medical practitioners, both diagnosis and surgery will be delayed.
This situation may, once again, justify a claim for compensation.
Contact a medical negligence solicitor
If you are thinking of making a compensation claim for medical negligence, you need the advice of a specialist solicitor. Glynns Solicitors is a specialist medical negligence legal practice. Contact us to talk to one of our experienced solicitors who will be happy to discuss your situation with you free of charge.
Please call us free on 0800 234 3300 (or from a mobile 01275 334030) or complete our Online Enquiry Form.

---
Testimonials
"Before we contacted you we had no real idea that we had grounds for a medical negligence claim but after speaking to you if became clear that Wendy was indeed treated poorly. Chris took the time to explain what was happening and kept us to speed. Our deepest gratitude to you all and Chris in particular."
"I would like to say a big thank you to you for making this whole process easy and relatively painless. You kept me informed throughout and you were always polite and courteous in all forms of communication. I would not hesitate to recommend you to friends and family, so a really big thank you and I wish you all the best in the future."
» Read More Medical Negligence Testimonials?

Free Nectorising Fasciitis Guide