Necrotising Fasciitis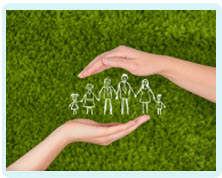 Compensation for Necrotising Soft-tissue Infections
Delaying the diagnosis of a soft-tissue infection can devastate a person's life. Where medical professionals miss the opportunity to diagnose this illness, leaving the patient to suffer a poor long-term outcome, it may be appropriate to make a claim for compensation.
What are necrotising soft-tissue infections?
Soft-tissue infections attack the body's subcutaneous soft tissue, such as the muscles, tendons and connective tissue around and between the structures of the body.
A necrotising infection is one which causes the necrosis (decay) and death of the tissue it infects.
Necrotising soft-tissue infections can be extremely aggressive, spreading from its starting point to the surrounding tissue causing the destruction of that tissue as it goes. It can very rapidly cause weakness and deformity in the people it affects.
If left untreated, necrotising soft-tissue infections will eventually impact on the blood vessels, starving the major organs of oxygen and causing the death of the patient.
What causes necrotising soft-tissue infections?
Necrotising soft-tissue infections include necrotising fasciitis and necrotising myositis.
These infections can be caused by a wide variety of bacterial pathogens which interact with the patient's internal environment to cause widespread destruction.
Frequently, an infection is caused by a combination of pathogens and it is important that medical practitioners try to identify the underlying bacteria causing the infection in order to pinpoint their treatment more finely.
Treating necrotising fasciitis
Necrotising fasciitis is a medical emergency. Such is the aggressive and rapid nature of the infection that a delay in diagnosis and treatment can mean that the patient will die.
Patients require intravenous antibiotics and surgical removal of all infected tissue as soon as possible. Some patients require several episodes of surgical debridement before all infected tissue has been removed. Such is the severity of the tissue destruction and the tissue debridement that the patient may even require life support in an intensive care unit before they recover.
Some patients, especially those who are already vulnerable or whose treatment is delayed may never recover at all.
Diagnosis negligence
If a patient attends their medical practitioner with the possible symptoms of necrotising fasciitis but such a diagnosis is not considered, they may suffer a delay in treatment.
Some patients in hospital are vulnerable to a necrotising fasciitis infection and a failure to spot their symptoms may also be regarded as substandard medical care.
If a delay in diagnosing and treating a patient's necrotising infection causes them to suffer significant and permanent symptoms, it may be appropriate to make a claim for compensation.
Legal advice
If you or a loved one are suffering the shocking effects of a necrotising fasciitis infection due to a delay in diagnosis, contact Glynns Solicitors to talk to a specialist medical negligence solicitor.
Please call us free on 0800 234 3300 (or from a mobile 01275 334030) or complete our Online Enquiry Form.

---
Testimonials
"Before we contacted you we had no real idea that we had grounds for a medical negligence claim but after speaking to you if became clear that Wendy was indeed treated poorly. Chris took the time to explain what was happening and kept us to speed. Our deepest gratitude to you all and Chris in particular."
"I would like to say a big thank you to you for making this whole process easy and relatively painless. You kept me informed throughout and you were always polite and courteous in all forms of communication. I would not hesitate to recommend you to friends and family, so a really big thank you and I wish you all the best in the future."
» Read More Medical Negligence Testimonials?

Free Nectorising Fasciitis Guide