Necrotising Fasciitis Cases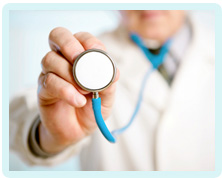 Cancer Patient Contracts Necrotising Fasciitis After Surgery
Due to unsanitary conditions on the hospital ward, cancer patient Inez developed the severe infection necrotising fasciitis. This was not diagnosed and treated in a timely fashion, causing her near-fatal complications.
In April 2010, Inez was diagnosed with cancer of the vulva. She required a radical vulvectomy and bilateral groin dissection by way of treatment. This operation was carried out two months later, and she required a period of aftercare in the intensive care unit.
After two days in ITU she was transferred to a normal ward. However, the care she received there was totally unacceptable. Her wound was oozing fluid and soaking the sheets. Although this is an indication of infection, the nurses said they wound not examine her because it was not a gynaecology ward.
No one changed her sheets or her catheter, and no one listened when she described how painful the surgical wound was. Her relatives complained repeatedly, but every time the nurses said they were too busy to do anything.
After five days Inez was transferred to a specialist gynaecology unit. The nurses there were appalled by what they saw. They diagnosed a severe infection at the site of the surgical wound. She was immediately transferred for an emergency operation to remove the infected flesh.
Inez required another operation the next day to remove yet more necrotic tissue. Before the procedure, doctors told her family that during her stay on the ward, Inez had contracted an infection called necrotising fasciitis. At that stage her condition was critical and they were not sure if she would survive.
Thankfully Inez did make it through a second and third operation. However, she was left with a gaping hole in her stomach. She required extensive VAC pump treatment and her dressings had to be changed weekly.
She remained in hospital for another three months. Even after being discharged Inez could hardly walk. Because of her immobility Inez also had to use a catheter for a prolonged period, something which has now caused her to develop urinary incontinence.
Although Inez did survive the infection, she has been left disfigured and struggles to cope with everyday tasks such as dressing and washing. This has made her extremely depressed.
During a meeting with the hospital, Inez was told that the unsanitary conditions and lack of treatment triggered the infection. These devastating complications could therefore have been avoided had Inez been properly cared for by the nurses. At most this could have prevented the infection occurring altogether, or at least could have ensured that the infection was detected and treated in the early stages.
We helped Inez make a claim for the terrible care she received. She was awarded over £25,000 compensation.
(Details which might identify our client have been changed.)
Would You Like Assistance from Specialist Necrotising Fasciitis Negligence Claims Solicitors?
If you would like to benefit from a service of excellence with total commitment to client care from a small and friendly team, Glynns are ready and waiting to help you.
Early legal assistance is essential. Please call us free on 0800 234 3300 (or from a mobile 01275 334030) or complete our Online Enquiry Form.

---