Necrotising Fasciitis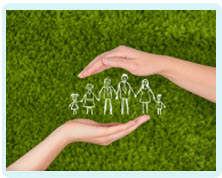 Can I Get Compensation for Undiagnosed Necrotising Fasciitis in the Buttocks
Necrotising fasciitis is a medical emergency. If it develops in the buttocks, an area of significant soft tissue, it requires rapid attention or the long-term effects can be devastating.
Necrotising Fasciitis in the buttocks
Necrotising fasciitis is a bacterial infection. When the relevant bacteria, of which there are many forms, reach the deep soft tissue, they begin to cause that tissue to decay, what is referred to as necrosis. Untreated, this decay will spread rapidly through the layers of tissue, threatening the body's organs and life-support system until the patient dies. It is a horrific illness associated with a high mortality rate.
Extensive damage can be caused by this appalling infection. Not only is tissue destroyed by the infection itself, but, if a diagnosis of necrotising fasciitis is confirmed, all infected tissue need to be surgically removed. The longer this process is delayed, the more extensive will be the long-term damage.
In the case of necrotising fasciitis in the buttocks, delayed treatment can threaten the function of the patient's bowel. If bowel function is compromised or destroyed by this infection, it may be necessary for the patient to be fitted with a stoma. From what may have started as an abscess or pain in the buttocks, the need for a temporary or permanent is a shocking outcome.
Symptoms of necrotising fasciitis in the buttocks
Symptoms which might indicate a possible necrotising fasciitis infection require scrupulous investigation. The patient may require immediate hospital treatment.
A patient who is developing necrotising fasciitis in the buttocks may be aware of pain and swelling in the buttock. They may find it difficult to seat or lie down. There may be some tenderness and discolouration of the skin. The patient may also be feeling unwell with a high temperature or chills.
The impact of a failure to consider a diagnosis of necrotising fasciitis can be severe indeed. If medical professionals fail to examine a patient with symptoms indicative of this shocking infection, they may be regarded as negligent. If a failure to consider the possibility of necrotising fasciitis, particularly in an 'at-risk' patient in an 'at-risk' area, leads to a poor long-term outcome, it may be appropriate to make a claim for compensation.
Speak to a solicitor
If you or a loved one are struggling with the impact of necrotising fasciitis due to delays in diagnosis and treatment, contact Glynns Solicitors to discuss your situation with a specialist medical negligence solicitor.
Please call us free on 0800 234 3300 (or from a mobile 01275 334030) or complete our Online Enquiry Form.

---
Testimonials
"Before we contacted you we had no real idea that we had grounds for a medical negligence claim but after speaking to you if became clear that Wendy was indeed treated poorly. Chris took the time to explain what was happening and kept us to speed. Our deepest gratitude to you all and Chris in particular."
"I would like to say a big thank you to you for making this whole process easy and relatively painless. You kept me informed throughout and you were always polite and courteous in all forms of communication. I would not hesitate to recommend you to friends and family, so a really big thank you and I wish you all the best in the future."
» Read More Medical Negligence Testimonials?

Free Nectorising Fasciitis Guide