Necrotising Fasciitis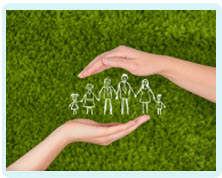 Can I Claim Compensation for Necrotising Fasciitis After Surgery?
If you or a loved one have developed necrotising fasciitis following surgery in hospital, it might be appropriate to make a claim for compensation.
We have successfully supported a number of clients who have been admitted to hospital for surgery, usually abdominal, and have developed necrotising fasciitis as a result.
Why does this happen?
Necrotising fasciitis often develops in or around the abdomen
Abdominal operations are very common, with hundreds taking place across the UK every day. An abdominal operation might be for a wide range of procedures such as gallbladder removal, a hernia operation, a hysterectomy, a Caesarean-section, surgery to resolve a problem with the bowel such as crohn's disease or cancer.
In order to reach the deep, soft tissue of the body, the bacteria which cause necrotising fasciitis need a cut to the patient's skin. Understandably, this is a very common occurrence in hospital and particularly where surgical procedures are concerned. Whether the patient is undergoing open surgery or keyhole surgery, incisions to the skin and the body's tissue will be necessary, thereby allowing bacteria to invade the body.
So is it negligent?
The hospital or relevant medical professionals might be considered to have provided substandard care in the following circumstances:
If the patient's physical circumstances indicated that they should receive prophylactic antibiotics before the operation but this did not occur, leaving the patient more vulnerable to infection
If the care of the patient following surgery is insufficient to prevent the development of infection
If the patient's symptoms of necrotising fasciitis following surgery are not observed or investigated, allowing time for the infection to gain a greater hold and leaving the patient with a poor long-term outcome.
Medical negligence
A patient who has undergone surgery is likely to be vulnerable to infection. Especially where the patient already has a weakened immune system or is overweight or has diabetes, it is vital to monitor them closely for signs of infection.
Necrotising fasciitis can be fatal and a failure to act on the patient's symptoms may be considered to have been negligent.
Speak to a solicitor
If you or a loved one have been the victim of a failure to prevent or diagnose necrotising fasciitis, you need to obtain specialist legal advice.
Contact Glynns Solicitors today to discuss your situation with an experienced medical negligence solicitor.
Please call us free on 0800 234 3300 (or from a mobile 01275 334030) or complete our Online Enquiry Form.

---
Testimonials
"Before we contacted you we had no real idea that we had grounds for a medical negligence claim but after speaking to you if became clear that Wendy was indeed treated poorly. Chris took the time to explain what was happening and kept us to speed. Our deepest gratitude to you all and Chris in particular."
"I would like to say a big thank you to you for making this whole process easy and relatively painless. You kept me informed throughout and you were always polite and courteous in all forms of communication. I would not hesitate to recommend you to friends and family, so a really big thank you and I wish you all the best in the future."
» Read More Medical Negligence Testimonials?

Free Nectorising Fasciitis Guide