Diagnosis Failure Or Delay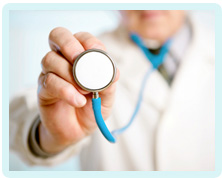 In excess of £50,000 For An Untreated Shoulder Fracture
After being diagnosed with a broken shoulder, Michelle had to wait five years to get the treatment she needed.
While on holiday abroad, Michelle slipped and fell heavily on her left shoulder. She attended hospital abroad but was told to seek medical attention when she returned home.
Eight days after the accident she attended her local hospital where she was diagnosed with a fractured shoulder. X-rays of the fracture were discussed amongst the medical team who said no further treatment was needed because the bone remained in a perfectly good position.
Over the following 12 months this decision was reviewed in the fracture clinic on three occasions. Despite the fact she was still in pain and had not regained normal function, Michelle was repeatedly told there were no clinical problems and treatment was not required.
However, x-rays taken during this time reveal that the fracture was getting increasingly worse. The images show how the position of the bone was dramatically deteriorating, migrating further and further out of place. Consequently the bone knitted together in an odd position, which is known medically as a severe malunion.
The medical professionals at the fracture clinic should have been able to identify the migration of the bone before it united together. Corrective surgery should have been provided and the fracture would have been successfully treated within months of the accident.
Instead doctors failed to diagnose the significant displacement of the fracture, and over the following 12 months failed to recognise that the position of the bone had got increasingly worse. Consequently Michelle was discharged from their care with an unrepaired fracture.
She carried on for another four years with severe pain in her left shoulder and significant functional compromise. This had a huge impact on her everyday life as she was unable to do even basic tasks such as driving her car. Eventually, five years after the original accident, Michelle was seen by a different consultant who identified the malunion of the bone in her shoulder. An operation was performed to correct the defect and she has since made some improvements. Nevertheless, the delay in treatment means she will never make a full recovery.
This is distressing for Michelle, as she knows that, had surgery been carried out in the months after her fall, she would have made a complete recovery. We helped her make a claim against the hospital whose doctors repeatedly failed to diagnose and treat her fracture. She was awarded over £50,000 compensation.
(Details which might identify our client have been changed)
Can We Help You?
We act for clients throughout England and Wales, if we cannot help you we will make no charge for our time. If we can help you to make a claim for compensation, you will benefit from the following funding options:
Conditional Fees ("no win, no fee")
Legal Expenses Insurance
Private Funding
Structured Payment Plans
Would You Like Assistance from Specialist Medical Negligence Claims Solicitors?
Early legal assistance can be vital so please contact us if you would like to discuss your situation. Please call us free on 0800 234 3300 (or from a mobile 01275 334030) or complete our Online Enquiry Form.

---