Diagnosis Failure Or Delay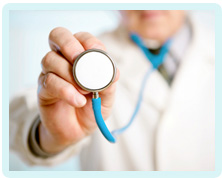 In excess of £40,000 Compensation For Ruptured Appendix
After being wrongly diagnosed with a urinary tract infection, Valerie suffered a ruptured appendix.
Valerie began to suffer abdominal pain in the morning of 10th November 2009. The pain grew worse throughout the day so she took some paracetamol, but this did not provide any relief. By the evening the pain was so severe that Valerie could not sleep. She rang NHS Direct and the operator immediately sent an ambulance to her house. In hospital the mother of two was examined, and blood and urine tests were taken.
Doctors in A&E then told Valerie that she had a urinary tract infection and required antibiotics. She disagreed with this diagnosis, saying the pain was so intense that it could not be a UTI. Unfortunately nobody listened and she was discharged home.
Valerie was so ill that she could not move from the sofa. The following morning Valerie rang her GP as her pain was worse. He did not ask her to visit the surgery, nor did he suggest a home visit. He simply increased the dose of antibiotics.
After another two days of lying on the sofa, Valerie's mother demanded that she see another doctor. They took a taxi to the out-of-hours doctor who was quick to send Valerie straight to hospital, as he did not think she had a urinary tract infection.
Valerie was immediately admitted to a ward and underwent an exploratory laparoscopy. She woke up in the ward and asked a nurse what had happened. She was told that she had actually had appendicitis. Because of the delay in treatment, the appendix had ruptured and become septic.
Due to the complications Valerie suffered, she had to remain in hospital for a week. She could not care for her children for six weeks and they had to live with her mother.
Valerie has been left with a large scar across her abdomen which she feels self-conscious about. She has been told that she is lucky to be alive, something which makes her feel very teary as her children were very nearly left without a mother.
She could not work for a total of three weeks, during which time she was not able to make a claim for sickness benefits. She has also developed additional health problems, including ovarian cysts.
Had the doctors in A&E accurately diagnosed appendicitis when she first presented, these physical, emotional and financial damages could have been avoided.
We helped Valerie make a claim against the hospital. She was awarded in excess of £40,000 compensation.
(Details which might identify our client have been changed).
Can We Help You?
We act for clients throughout England and Wales, if we cannot help you we will make no charge for our time. If we can help you to make a claim for compensation, you will benefit from the following funding options:
Conditional Fees ("no win, no fee")
Legal Expenses Insurance
Private Funding
Structured Payment Plans
Would You Like Assistance from Specialist Medical Negligence Claims Solicitors?
Early legal assistance can be vital so please contact us if you would like to discuss your situation. Please call us free on 0800 234 3300 (or from a mobile 01275 334030) or complete our Online Enquiry Form.

---