Diagnosis Failure Or Delay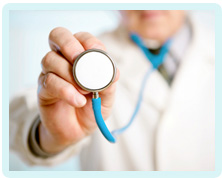 Missed Pelvic Abscess Medical Negligence Claim
Jenna repeatedly sought medical help for her symptoms but each time was diagnosed with piles. Eventually, after eight months, it was discovered she had a pelvic abscess. The delay caused life-threatening complications, from which she only just survived.
When Jenna attended an appointment with her GP, she had been suffering from severe pain in her anus and could not open her bowels. After a digital rectal examination, the GP diagnosed piles and prescribed cream and suppositories.
Jenna and her family thought it odd that she should have piles, as she could not feel a lump in or around her anus. However, she continued to take the prescribed medication for another five months. Her symptoms did improve slightly but, when the pain in her bottom returned, along with a severe pain in her left leg, Jenna was in absolute agony and had a temperature. Over the next three months she returned to her GP surgery three times, but each time she was diagnosed with piles.
In extreme pain, Jenna was taken to A&E where an out-of-hours nurse diagnosed her with an abscess, at the top of her buttocks, approximately the size of a golf ball. Jenna was given antibiotics to take.
However, Jenna's condition deteriorated dramatically, and four days later she was rushed to hospital. Her blood pressure was dangerously low and all her veins had collapsed. She was taken immediately to theatre where the abscess was drained. At this stage Jenna's life was in jeopardy.
When she was stable enough, an MRI scan was performed. This revealed a large abscess behind her pelvis which was draining into her left leg. She underwent another two operations, during which it was discovered that the abscess was so big it had caused a hole in her bowel. Faeces and toxins were draining into her left leg, causing necrotising fasciitis and septicaemia.
A stoma bag was fitted to allow her bowel to heal, something she understandably found very embarrassing. She was left with a hole at the top of her left buttock that was the size of an orange. She had a scar running from the top of her buttocks to the back of her knee which needed a skin graft. She spent a total of three months in hospital.
Jenna says she cannot describe the pain she endured during her recovery. She has had to come to terms with having a stoma bag fitted and the appearance of her left leg, which is severely scarred. She has also been told that because of her internal injuries, she may not be able to have children in the future. As a result of these physical and emotional injuries, Jenna has become very depressed. She no longer goes out with friends and believes that she will never fully recover.
Jenna has suffered considerably, all because doctors repeatedly failed to make an accurate diagnosis, instead confusing her condition with piles. This caused life-threatening complications which have changed the lives of Jenna and her family forever.
We helped Jenna make a claim for the negligence she had experienced. She was awarded over £100,000 compensation.
(Details which might identify our client have been changed.)
Would You Like Assistance from Specialist Medical Negligence Claims Solicitors?
Early legal assistance can be vital so please contact us if you would like to discuss your situation. Please call us free on 0800 234 3300 (or from a mobile 01275 334030) or complete our Online Enquiry Form.

---