Cauda Equina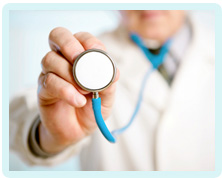 Tests For Cauda Equina Syndrome
There are various tests that can be used to diagnose cauda equina syndrome. Together these will reveal neurological dysfunction, indicating the presence of cauda equina compression. This can be verified with images produced by an MRI scan.
Straight leg raise test
Cauda equina syndrome can cause pain when the legs are elevated, particularly when they are at a certain angle.
A straight leg raise test (SLR) involves the patient lying on their back while a clinician lifts their legs one by one. The knee should not be bent. If there is pain between 30 and 60 degrees, the test will be considered 'positive' as it indicates nerve root irritation.
Pinprick test
Cauda equina syndrome will make the perineum, genitals and buttocks feel numb. Patients often say it feels strange and although there may be some sensation, it will be reduced and not feel normal.
A pinprick test can confirm whether the loss of sensation is being caused by the cauda equina nerve roots. A small sterile pin or needle should be gently applied to the skin in different areas to test different dermatomes. They should not puncture the skin. If the patient does not report pain or sensation in the areas served by the cauda equina nerves, it points towards a cauda equina injury.
Bulbocavernous reflex test
The cauda equina nerves provide sensation to the perineum, the sacral spinal cord and motor nerves. When these are stimulated, it will cause various structures to contract, including the anal canal. This is considered a normal polysynaptic reflex.
A bulbocavernous reflex (BCR) test helps to determine whether or not this reflex is intact and functioning. It involves inserting a gloved finger into the rectum and tugging on a Foley catheter or squeezing the glans penis. If the anal canal contracts, the test will be positive, meaning the patient has a normal reflex.
If the anal canal does not contract it means the reflex is absent, indicating that there is some form of spinal injury. According to study in 1983 by Pavlakis, around 85% of people who have a cauda equina injury will have an absent bulbocavernous reflex.
MRI scan
If the above tests produce results that are in line with cauda equina syndrome, the patient should have an MRI scan. This will produce images of the spine, showing whether or not the nerves are being compressed.
Failure to test for cauda equina syndrome
If medical practitioners fail to test for cauda equina syndrome, or fail to appreciate the meaning of the test results, the patient's diagnosis and treatment could be delayed. This will delay their treatment, resulting in a poor outcome.
If you experienced a delayed diagnosis of cauda equina syndrome, please get in touch with us today. You could be the victim of medical negligence.
Call us now for a free, no obligation assessment on 0800 234 3300 (or from a mobile 01275 334030) or complete our Online Enquiry Form.

---