Cancer Misdiagnosis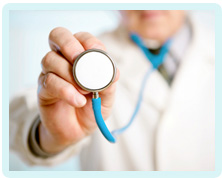 Delayed Diagnosis Of Rectal Cancer Causes Fatal Complications
After a year of seeking medical attention for his symptoms, Arthur was finally diagnosed with rectal cancer. By that stage he needed extensive treatment, tragically leading to fatal complications.
When he began to experience lower abdominal pain and frequent bowel movements, Arthur sought advice from his GP who referred him on to a colorectal cancer service. As an urgent case, an appointment should have been provided within two weeks, but Arthur had to wait two months to be seen.
When a colonoscopy was performed, the report said it was normal except for some inflammation on entering the anal canal. The nurse endoscopist was uncertain as to whether this warranted further investigation but a consultant was not available for an opinion. Consequently a request was made for the findings to be checked in a consultant clinic.
When Arthur did eventually see a consultant – another two months later – he was told the biopsies that had been taken at the clinic looked normal. He did not consider the colonoscopy report written by the endoscopist nurse or perform a rectal examination. Arthur was discharged from his care having been given the all clear.
However, Arthur continued to suffer from abdominal discomfort and returned to his GP once again. This time a diagnosis of irritable bowel syndrome was made but still he did not improve. This once active man became increasingly exhausted and could no longer carry out household chores as he once did. Instead Arthur could only lie on the sofa.
After another six months his condition was so bad Arthur returned to his GP yet again. Because the previous test results were negative, his GP did not suspect cancer. Nevertheless he referred Arthur to the hospital once again querying the possibility of anal fissures. The same tests were repeated and this time a rectal tumour was diagnosed. It was assessed as being 4cms in length and classified as T3/4N2.
Because of the advanced stage, Arthur had to undergo radiotherapy, followed by a surgical excision of the tumour. This went well and six months after being diagnosed he was making a good recovery. His family were told he was expected to survive the cancer and he was discharged from hospital.
But sadly one week after the operation Arthur became extremely unwell. His urine had become septic due to a persistent catheter. He was placed on antibiotics, but this in turn caused a condition called pseudomembranous colitis, an inflammation of the colon. Normally treatment to remove the damaged part of the bowel would be required but Arthur was simply too ill to undergo an operation.
A decision was made to withdraw treatment and Arthur died hours later of multi-organ failure. Understandably the family found it very difficult to come to terms with their loss, particularly as they knew Arthur would still be alive had his cancer been diagnosed earlier. This is because he would not have required such extensive treatment and so would not have developed complications. Instead he would have been cured of rectal cancer and continued to live a happy life.
We helped Arthur's widow make a medical negligence claim for the repeated failings of the GP, the consultant and the hospital. She was awarded over £200,000 compensation.
(Details which might identify our client have been changed.)
Let Us Advise You Now
Early legal intervention can be vital so please contact us if you think you may have a claim. All initial enquiries are completely free of charge and without obligation.
Please call us free on 0800 234 3300 (or from a mobile 01275 334030) or complete our Online Enquiry Form.

---