Cancer Misdiagnosis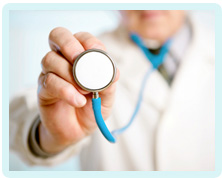 Delayed Diagnosis of Bowel Cancer
After a large tumour was missed during bowel cancer tests, Michael's condition became terminal and he was unable to recover when the disease was eventually diagnosed. The delay ultimately cost him his life.
When Michael started to experience pain in his stomach and was bleeding when he went to the toilet, it immediately sparked concerns as both of his wife's parents had experienced similar symptoms before being diagnosed with bowel cancer.
Michael sought help from his GP who promptly referred him to the local hospital for tests. An appointment was made for the beginning of October when an endoscopy and blood tests were performed. These came back negative and Michael was given the all clear.
However, no explanation was given as to why he was suffering these symptoms and no further tests were carried out to identify the cause of them. But rather than getting any better, Michael continued to experience terrible stomach cramps and pass blood while going to the toilet.
Consequently Michael returned to his GP five months later, who once again referred him to hospital. The same tests were repeated, after which he was told he had a large malignant tumour in his bowel that would require an operation.
The news was of course something of a shock, especially as he was told the tumour was substantial and well developed. It must therefore have been missed when Michael was tested months previously.
After having the operation, Michael and his wife returned to the hospital for an appointment with the consultant. Oddly, however, no doctors were present. Instead they were seen by a colorectal nurse who delivered the devastating news that Michael's condition was terminal.
Understandably they were very distressed and had a number of questions. But the nurse was unable to provide any answers and they were told the oncology department would be in touch. Michael heard nothing from the hospital over the coming weeks, despite phoning several times in an attempt to make an appointment.
Feeling increasingly desperate, Michael and his wife were forced to borrow some money from a friend to pay for a private consultation. This instantly produced results and within days Michael began a six week course of radiotherapy.
Nevertheless, the doctor explained that Michael's condition was terminal and the treatment would simply help to prolong his life. This would have been much more effective had the hospital started him on chemotherapy as soon as a diagnosis was made, as should have happened.
Sadly Michael quickly deteriorated despite the treatment and, just 10 months after being diagnosed, he was admitted to a hospice where he died, leaving his wife and three children behind.
We helped Michael's wife claim for the terrible care received by the hospital. Their failure to diagnose the tumour the first time round reduced his life expectancy, while their failure to administer treatment after the diagnosis and after surgery was simply unacceptable. The case was settled out of court and Michael's family were awarded over £70,000.
(Details which might identify our client have been changed.)
Let Us Advise You Now
Early legal intervention can be vital so please contact us if you think you may have a claim. All initial enquiries are completely free of charge and without obligation.
Please call us free on 0800 234 3300 (or from a mobile 01275 334030) or complete our Online Enquiry Form.

---