Birth Injury Articles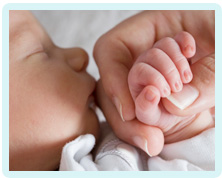 Why Was My Tear Missed?
If your third degree tear was not recognised and repaired after you gave birth, it is likely that medical negligence is to blame. If this has caused you to suffer symptoms such as faecal urgency, you could be entitled to pursue a claim for compensation. Contact us for more information.
Why was my 3rd degree tear missed after I gave birth?
A 3rd degree tear should be diagnosed during a routine examination shortly after birth. Once diagnosed, a 3rd degree tear should be repaired in theatre by a suitably qualified surgeon.
Unless the mother is suffering complications that require urgent attention, there is really no legitimate reason why a 3rd degree tear would be missed.
There should be a thorough examination, including a rectal examination, which should reveal the presence of any defect in the perineum and anal sphincter. If the examining clinician is uncertain, a more senior opinion should be sought. As long as this examination is performed correctly, a 3rd degree tear should be detected.
In the past, some medical experts have said that 'occult tears' can be missed. An occult tear is one that cannot be seen because the skin of the perineum is intact, even though the tissue underneath is torn. However, this is no longer considered reasonable as a proper examination should pick up on occult tears.
Have I been the victim of medical negligence?
Therefore if your third degree tear was not diagnosed until a later date, it is very likely you have been the victim of medical negligence. This might have occurred because an examination did not take place at all. Or it might have occurred because the examination was not thorough, or was not performed by a competent clinician.
What can I do?
If you suspect you have been the victim of medical negligence, you can make a formal complaint. You can also speak to a medical negligence solicitor about the possibility of suing those at fault.
A missed 3rd degree tear will amount to a breach of duty, meaning a substandard level of care has been provided. It will be possible to make a claim if this substandard care has caused you injury – for instance, you have developed faecal urgency and incontinence.
A solicitor will be able to tell you whether or not you are eligible to pursue a medical compensation claim.
Contact us today
To speak directly to a legal expert, please get in touch with us at Glynns Solicitors.
Please call us on 0800 234 3300 (or from a mobile 01275 334030) or complete our Online Enquiry Form.

---
Testimonials
"Before we contacted you we had no real idea that we had grounds for a medical negligence claim but after speaking to you if became clear that Wendy was indeed treated poorly. Chris took the time to explain what was happening and kept us to speed. Our deepest gratitude to you all and Chris in particular."
"I would like to say a big thank you to you for making this whole process easy and relatively painless. You kept me informed throughout and you were always polite and courteous in all forms of communication. I would not hesitate to recommend you to friends and family, so a really big thank you and I wish you all the best in the future."
» Read More Medical Negligence Testimonials?

Free Birth Injury Guide