Birth Injury Articles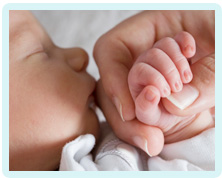 Who is most at risk of a perineal tear?
A perineal tear is a natural risk in any vaginal birth, but are some people more likely to experience this injury than others, and what can be done to reduce the chances?
What is a perineal tear?
A perineal tear is a tear in the perineum (the area between the vagina and the anus) that can occur naturally when giving birth when the vagina and perineum stretch to allow the baby to be born. Perineal tears are graded as 1st, 2nd, 3rd or 4th degree tears depending upon how far the tear has extended towards the anus. Third and fourth degree tears are the most severe, with 3rd degree tears affecting the skin and muscle of the perineum as well as the anal sphincter. A 4th degree tear also affects the lining of the anus (the mucosa). Fortunately, however, only 2% - 3% of women are thought to experience a 3rd or 4th degree tear.
Who is most at risk of a perineal tear?
Some women are more vulnerable to perineal tears and some circumstances can also make them more likely.
Research suggests that you are more likely to experience a 3rd or 4th degree tear if:
this is the first time you have given birth vaginally
you are morbidly obese
you are of South Asian origin
you have previously experienced a 3rd or 4th degree tear
Other factors include:
if your second stage of labour is protracted
if the baby is large (over 4kg)
if forceps or a ventouse are used during the delivery
if the baby's shoulder becomes stuck behind your pubic bone
if labour is induced
What can be done to prevent a perineal tear?
Although it is not necessarily possible to predict a tear, it might be possible to reduce the chances of it occurring with the following tips:
Help to keep the perineum muscles soft with a warm cloth during labour
A planned episiotomy (surgical cut to the perineum) may reduce the chance of further unexpected tearing
Pelvic floor exercises prior to labour may help your perineal muscles to become more flexible
Massage of the perineum may also help muscles to respond well to the pressures of giving birth
There is some evidence that giving birth on your back increases the chance of a tear
The role of the medical practitioners
If you experience a 3rd or 4th degree tear, it is vital that it is identified and treated promptly after the delivery. Your midwife or doctor should check after you have given birth to ensure that you have not suffered a tear, and respond appropriately if you have. Third and 4th degree tears require repair in surgery by an experienced surgeon.
Medical Negligence
If you experienced a 3rd or 4th degree tear during labour and have been left with significant long-term effects due to negligent care, you need to speak to a specialist solicitor as soon as possible. You may be entitled to make a claim for compensation.
Please call us on 0800 234 3300 (or from a mobile 01275 334030) or complete our Online Enquiry Form.

---
Testimonials
"Before we contacted you we had no real idea that we had grounds for a medical negligence claim but after speaking to you if became clear that Wendy was indeed treated poorly. Chris took the time to explain what was happening and kept us to speed. Our deepest gratitude to you all and Chris in particular."
"I would like to say a big thank you to you for making this whole process easy and relatively painless. You kept me informed throughout and you were always polite and courteous in all forms of communication. I would not hesitate to recommend you to friends and family, so a really big thank you and I wish you all the best in the future."
» Read More Medical Negligence Testimonials?

Free Birth Injury Guide