Third/Fourth Degree Tear Claims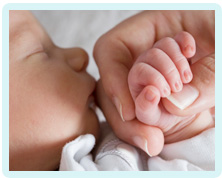 Unrecognised Third Degree Tear
After a botched episiotomy, Jo sustained a third degree tear. However, the injury was not diagnosed and repaired after the delivery, causing her to develop faecal incontinence.
In April 2009, Jo went into labour with her first child. She was attended by midwives throughout the labour, one of whom decided she required an episiotomy. There was no real reason for this as the labour was progressing well and the baby was not in distress.
Unfortunately the midwife went ahead anyway, making four or five cuts to the perineum. The laceration extended too far down and actually damaged Jo's anal sphincter, an injury that is described by medical practitioners as a third degree tear.
Normally a third degree tear would be diagnosed after the delivery, but the midwife failed to perform a thorough examination. Consequently Jo's episiotomy was stitched, but the tissue underneath remained open and her sphincter remained damaged.
A month later, Jo began to suffer faecal incontinence. She continued to have episodes of incontinence about once or twice a month. She repeatedly sought medical assistance, both from her GP and from a gynaecologist, who Jo saw in June 2010 when she fell pregnant with her second child.
By the time she was three months pregnant her incontinence had become significantly worse. This was exhausting and very difficult to manage at work.
Thankfully Jo mentioned her problems to a midwife during a routine pregnancy appointment. The midwife became very concerned and made an emergency referral to the local maternity unit with a senior registrar.
After an examination, the registrar told Jo that the midwife had cut too far down into the anal passage, causing a third degree tear. This had not been diagnosed and repaired. Furthermore, her episiotomy stitches had come undone.
Once her second child had been born, Jo underwent medical treatment for her missed third degree tear. She had a surgical repair and had sessions of biofeedback. This has improved her symptoms slightly.
However, Jo still needs to evacuate her bowels regularly and cannot hold a motion. This means she must be near to a toilet at all times. This is incredibly hard to cope with, and Jo feels like she is now a prisoner in her own home. She is too scared to go far and has developed depression, anxiety and obsessive compulsive disorder as a result.
This has put enormous strain upon Jo's relationship with her husband. He must do many of the household chores and has to work more hours, as Jo can now only work one day a week. He must also take their daughters out by himself as Jo is too afraid to go out in public. This means she is missing out on spending quality time with her family.
Jo's physical, emotional and financial complications could have been avoided had the midwife correctly performed an episiotomy, and carried out an examination after the delivery. We helped Jo claim for her missed third degree tear and she was awarded over £150,000 compensation.
(Details which might identify our client have been changed).
Can We Help You With A Birth Injury Enquiry?
If we can help you to make a claim for compensation you will benefit from the following funding options:
Conditional Fees ("no win, no fee")
Legal Expenses Insurance
Private Funding
Structured Payment Plans
Would You Like Assistance from Specialist Birth Injury Claims Solicitors?
If you would like to benefit from a service of excellence with total commitment to client care from a small and friendly team, Glynns are ready and waiting to help you.
Please call us on 0800 234 3300 (or from a mobile 01275 334030) or complete our Online Enquiry Form.

---
Testimonials
"Before we contacted you we had no real idea that we had grounds for a medical negligence claim but after speaking to you if became clear that Wendy was indeed treated poorly. Chris took the time to explain what was happening and kept us to speed. Our deepest gratitude to you all and Chris in particular."
"I would like to say a big thank you to you for making this whole process easy and relatively painless. You kept me informed throughout and you were always polite and courteous in all forms of communication. I would not hesitate to recommend you to friends and family, so a really big thank you and I wish you all the best in the future."
» Read More Medical Negligence Testimonials?

Free Birth Injury Guide