Birth Injury Case Studies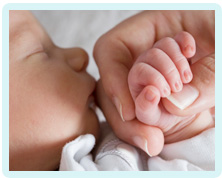 Compensation For Undiagnosed Perineal Abscess
After giving birth to her first child, Carrie was in excruciating pain. Nurses repeatedly ignored her complaints, saying it was normal after a third degree tear. It was not until she was examined by a doctor that she was diagnosed with a fourth degree tear, fistula and perineal abscess.
In the spring of 2011, Carrie went into labour with her first child. It was a difficult birth and her son was born with the assistance of an epidural and forceps. The attending doctor informed her that she had sustained a third degree tear and sutured the wound.
The following day Carrie was transferred to a transitional care ward. She started to develop pain in her vaginal area but was told this was perfectly normal after a tear. The pain got progressively worse and she remained in agony for the next five days.
During this time she repeatedly told nursing staff that she was in great distress. She also reported being incontinent of faeces and experiencing excruciating pain while going to the toilet. Unfortunately her problems were repeatedly ignored, and were not even recorded in her medical notes.
Eventually, after almost a week, Carrie was examined by a doctor. She was told that a perineal abscess had formed and IV antibiotics were required. She was examined again the next day, and was also told that she had actually sustained a fourth degree tear, and had developed a fistula.
Carrie was advised that if the fistula had not healed within 24 hours, a colostomy would be fitted. In the meantime the abscess on her perineum burst, eroding the tissues around the tear. This caused terrible pain whenever she passed urine and she was therefore given a catheter.
Because the fistula had not healed, Carrie underwent an operation to have a colostomy fitted. She had to be separated from her son for two days and could not breast feed him, all of which she found deeply upsetting.
When she was finally discharged from hospital, Carrie remained largely immobile. Although Carrie is now able to manage around the house, the impact of her complications has been devastating. The colostomy has caused her severe embarrassment and frustration, making her reluctant to travel.
She has lost out on vital bonding time with her son, and has also suffered significant financial loss, as she intended to return to work within three months of the birth.
Carrie was told that all of this could have been avoided, had she been given antibiotics in the early stages of the abscess. Sadly these were not administered because medical practitioners failed to make a diagnosis, causing the abscess to grow and eventually burst.
We helped Carrie make a medical negligence claim for the substandard level of care she received in hospital after the birth of her son. She was awarded in excess of £300,000 compensation.
(Details which might identify our client have been changed.)
Would You Like Assistance from Specialist Birth Injury Claims Solicitors?
If you would like to benefit from a service of excellence with total commitment to client care from a small and friendly team, Glynns are ready and waiting to help you.
Please call us on 0800 234 3300 (or from a mobile 01275 334030) or complete our Online Enquiry Form.

---