Birth Injury Articles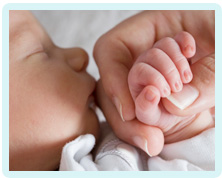 Unable To Control Wind After Giving Birth
Some women will find it hard to control the passing of wind after giving birth. This is more likely to affect women who sustain an injury to the anal sphincter during the delivery.
Why can't I stop the passing of wind after giving birth?
A vaginal delivery puts the muscles around the pelvic floor, perineum and anus under enormous strain. As the baby is passing through the birth canal and out through the vaginal opening, the muscles can be stretched to such an extent that they lose some of their elasticity. This can lead to problems with regards to control, as the muscles will no longer have the same level of strength.
Different symptoms can arise because of muscle weakness, including the incontinence of wind. In medical terminology, wind is called 'flatus'. Difficulty controlling wind is more common in women who sustained a severe perineal tear – meaning a 3rd or 4th degree tear. This is because 3rd and 4th degree tears extend into the anal sphincter muscles which enable us to control the passing of faeces (poo) and wind. If these muscles are damaged, they will become weaker and it will be harder to control the passing of wind.
Fourth degree tears and 3c tears extend into the internal anal sphincter, which is largely responsible for controlling flatus. Therefore being unable to control wind after such as tear is not abnormal.
What can I do?
If you are experiencing uncontrollable wind after giving birth, you should seek medical advice. There may be some underlying injury that requires treatment. Being unable to control wind after giving birth is not normal unless there has been a severe injury, so it is best to have the matter investigated. Medical practitioners can also advise you on other ways to improve the problem, such as pelvic floor exercises.
Incontinent of wind because of missed tear
Sometimes medical investigations will reveal that a patient is suffering from incontinence because there is an unrepaired perineal tear. This is not supposed to happen, as perineal tears should be detected and treated shortly after the delivery. However, there are times when medical practitioners fail to diagnose the injury, meaning it remains untreated.
If you have developed symptoms because of a missed perineal tear, you could be entitled to claim compensation. It is negligent to miss a perineal tear and, if this causes you issues that would otherwise have been prevented, you will be eligible to pursue legal action. Contact us for more information.
Speak to a solicitor
If you would like to speak to a solicitor regarding a potential case of medical negligence, please get in touch with us today.
Please call us on 0800 234 3300 (or from a mobile 01275 334030) or complete our Online Enquiry Form.

---