Third/Fourth Degree Tear Claims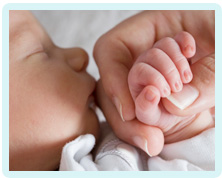 Two Year Delay in Diagnosing Third Degree Tear
After suffering from incontinence of wind and faecal leakage, Annie was eventually told that she had an unrepaired third degree tear.
When Annie gave birth to her second child, she was told that she had sustained a tear, although the extent of the tear was never mentioned. The midwife initially began suturing the wound, but after 10 minutes called a doctor, who then spent a further hour and a half repairing the injury.
Annie was discharged home the next day without receiving any further examinations. To begin with she did not notice any problems, but after around nine months realised that she had some sort of growth on the outside of her vagina.
She was referred to a consultant who said that her body had been stitched to the outside of her vagina. Because Annie wanted more children, she decided not to have the defect operated on as it was not causing her any pain.
At the same time she noticed that she was frequently passing wind and was unable to hold it in. She also noted that the wind was escaping from her vagina. She found this extremely embarrassing but did not seek medical attention as she believed this was normal in women who had had a large baby, as she had.
However. when she began to pass faeces through her vagina as well, she went to see her GP, after which she was referred once again to a consultant.
During the appointment, Annie was examined vaginally and anally. She was informed that she had no perineal support and therefore there was no support for her bowel. The vagina and anal passageways were essentially sitting together. In conclusion, she had suffered a third degree tear during the birth of her second child which had not been repaired.
Annie was told that she needed an anal sphincter repair for the missed tear, and a perineoplasty to correct the skin which had been incorrectly stitched to the outside of the vagina. The surgeon who would perform the operation told Annie that he was very concerned about the care she had received as the tear should have been repaired shortly after the birth.
The surgeon also advised Annie that the longer a third degree tear remains unrepaired, the harder it is to fix. The operation was eventually performed more than two years after the birth. Sadly it has failed to fully resolve Annie's symptoms, and she remains incontinent of wind and leaks faeces, necessitating the constant use of incontinence pads.
Understandably, Annie has found her condition extremely hard to deal with. She was forced to resign from her job due to her incontinence, and has been unable to take her children out on day-trips, socialise with friends or do anything strenuous.
All of these problems could have been avoided, had a proper repair been conducted shortly after the delivery. On the balance of probabilities, she would have gone on to make a full recovery, and would have been able to have further children – something which is no longer possible.
We helped Annie make a claim for the negligent care she received. She was awarded over £150,000 compensation.
(Details which might identify our client have been changed.)
Would You Like Assistance from Specialist Birth Injury Claims Solicitors?
If you would like to benefit from a service of excellence with total commitment to client care from a small and friendly team, Glynns are ready and waiting to help you.
Please call us on 0800 234 3300 (or from a mobile 01275 334030) or complete our Online Enquiry Form.

---
Testimonials
"Before we contacted you we had no real idea that we had grounds for a medical negligence claim but after speaking to you if became clear that Wendy was indeed treated poorly. Chris took the time to explain what was happening and kept us to speed. Our deepest gratitude to you all and Chris in particular."
"I would like to say a big thank you to you for making this whole process easy and relatively painless. You kept me informed throughout and you were always polite and courteous in all forms of communication. I would not hesitate to recommend you to friends and family, so a really big thank you and I wish you all the best in the future."
» Read More Medical Negligence Testimonials?

Free Birth Injury Guide