Birth Injury Articles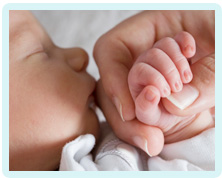 Third Degree Tear and Episiotomy
A third degree tear and an episiotomy are not the same thing. In this article we explore the difference between the two, and explain whether an episiotomy increase or decreases the chances of tearing.
A third degree tear
A third degree tear is a type of perineal injury, also known as a perineal tear, obstetric anal sphincter injury or obstetric tear.
There are different categories of perineal injury, ranging from a first degree tear to a fourth degree tear. A first degree tear is the most minor and a fourth degree tear is the most severe. This means a third degree tear is one of the most extensive types of tear.
The actual injury affects the perineal skin, the perineal muscles and the anal sphincter. Because the anal sphincter is involved, it can affect the patient's ability to defer defecation and flatulence.
A third degree tear is not something that cannot be predicted. There are known risk factors, such as a larger than average baby and forceps. Even so, a third degree tear is cannot be prevented.
An episiotomy
An episiotomy is a deliberate cut made to the perineum. It is done to widen the vaginal opening, allowing space to accommodate the baby's head, or the use of instruments such as forceps.
The cut is made with a sharp pair of scissors just before the baby is delivered. The cut should be made downwards and in a diagonal direction. This is called a medio-lateral episiotomy.
In the UK, not all women will be given an episiotomy, although in some other countries it is routine practice. In the UK, the patient should only be given an episiotomy if it is truly necessary – for instance, if a forceps delivery is needed.
Therefore an episiotomy is when the perineum is deliberately cut by a doctor or midwife. A third degree tear is when the perineum (and anal sphincter) tear of their own accord.
Does an episiotomy decrease the risk of a third degree tear?
It was previously thought that an episiotomy decreased the risk of a third degree tear. The thinking was that it was better to have a controlled cut to the perineum, rather than suffer a tear which could extend down into the anal sphincter.
However, this school of thought is no longer accepted. In fact, it is now understood that an episiotomy could actually increase the risk of a tear, particularly if it is performed negligently. Midline episiotomies – where the cut is made straight downwards – can easily extend down into the anal sphincter. Because of this risk, midline episiotomies have been banned in the UK.
Negligent episiotomy or tearing
If your episiotomy was negligently performed, or your third degree tear was negligently managed, please contact us to discuss a compensation claim.
Please call us on 0800 234 3300 (or from a mobile 01275 334030) or complete our Online Enquiry Form.

---
Testimonials
"Before we contacted you we had no real idea that we had grounds for a medical negligence claim but after speaking to you if became clear that Wendy was indeed treated poorly. Chris took the time to explain what was happening and kept us to speed. Our deepest gratitude to you all and Chris in particular."
"I would like to say a big thank you to you for making this whole process easy and relatively painless. You kept me informed throughout and you were always polite and courteous in all forms of communication. I would not hesitate to recommend you to friends and family, so a really big thank you and I wish you all the best in the future."
» Read More Medical Negligence Testimonials?

Free Birth Injury Guide