Birth Injury Articles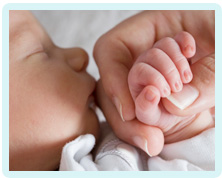 Third Degree Tear What Is It?
A third degree tear is a birth injury that happens during childbirth – more specifically, during a vaginal delivery.
The term 'third degree tear' means that the mother's perineal skin, perineal muscles and part of her anal sphincter have torn during the delivery of the baby's head and shoulders. A baby will not be injured by a third degree tear – it is an injury that only affects the mother.
A third degree tear will not happen in every vaginal birth. When it does occur, it is because the mother's vaginal opening is not wide enough to accommodate the baby's head and shoulders, and the perineal skin cannot stretch far enough.
The perineal skin does expand significantly during birth. However, sometimes the tissue simply cannot stretch to the necessary extent, causing it to rip when the baby is delivered.
Who gets a third degree tear?
Third degree tears only happen in a small percentage of births. Some NHS Trusts estimate that around 2% of women who have a vaginal birth under their care will have a third degree tear. The Royal College of Obstetricians and Gynaecologists suggest that 9% of vaginal births are associated with a third or fourth degree tear.
Some women are more likely to have a third degree tear than others. For example, third degree tears are more common in:
Women having a first vaginal birth
Women giving to a larger than average baby
Assisted deliveries
Births where there is a long second stage of labour
But even women who do not have any risks factors can suffer a third degree tear. Therefore third degree tears are unpredictable and cannot be prevented.
Can you recover from a third degree tear?
A third degree tear is not life-threatening. With good care, a woman can make a full recovery.
'Good care' entails diagnosing the injury shortly after birth, performing an adequate surgical repair, and offering all the necessary after-care. This includes prescribing antibiotics and laxatives, referring the patient for physiotherapy, and advising the patient on how best to promote wound healing.
Unfortunately if a third degree tear is not managed properly, the patient may not make a full recovery. This can result in long-term symptoms that severely disrupt the individual's life, including faecal incontinence and urgency.
What if I suffer poor care?
If you experience poor care while giving birth, causing you to suffer third degree tear complications, you need to speak to a solicitor. There could be a case of medical negligence.
Please call us on 0800 234 3300 (or from a mobile 01275 334030) or complete our Online Enquiry Form.

---