Birth Injury Articles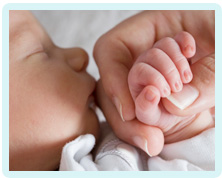 Third Degree Tear Pain
A third degree tear will be painful in the weeks and months after the injury. The recovery time for each patient will be different, but if the pain persists you should seek medical advice, as there may be an underlying issue at play.
Pain after third degree tear
A third degree tear will initially cause pain, tenderness and swelling around the perineum. The area has undergone extensive trauma during the birth and will be extremely bruised. The stitches will also be painful.
Once the swelling has reduced, the patient should find that their pain is greatly alleviated. However, there can still be pain, particularly when sitting or standing for a long time. This is because the scar tissue can become heavy and will produce an aching, dragging sensation.
Sexual intercourse can remain painful for several months afterwards due to the internal and external damage. Sometimes the pain felt during sex is partly due to the person's inability to relax. Indeed, many will be anxious that the tear will separate and will be nervous about having sexual relations.
How to relieve pain after a third degree tear
There are some things you can do after a third degree tear to relieve the pain. These include:
Take pain relieving medication
Apply ice packs
Physiotherapy (pelvic floor exercises)
Sit or stand for short periods of time, and change position regularly
Wash the perineum and pat it dry
Rest and lie down regularly
If you remain worried about resuming sexual relations, you may benefit from psycho-sexual counselling.
Third degree tear still painful
If are still experiencing symptoms a long time after the birth, you should speak to a healthcare professional. It is difficult to say what is 'normal' and what is 'not normal' because everyone heals at their own rate. However, most women will have recovered within one year.
If you are yet to recover, it may be that there is a cause for the pain. For example, there may be a suture left in the scar tissue. A doctor will be able to examine you and, if necessary, can refer you to a specialist consultant.
Third degree tear painful because not diagnosed
Some women will attend a doctor for ongoing symptoms after giving birth, only to be told for the first time that they have a third degree tear. When this happens, it means that injury was missed by healthcare professionals in the hospital. This amounts to medical negligence, as a third degree tear should be diagnosed and treated shortly after the delivery.
If you have only just discovered that you have an untreated third degree tear, please get in touch with us to discuss taking legal action against those involved.
Please call us on 0800 234 3300 (or from a mobile 01275 334030) or complete our Online Enquiry Form.

---
Testimonials
"Before we contacted you we had no real idea that we had grounds for a medical negligence claim but after speaking to you if became clear that Wendy was indeed treated poorly. Chris took the time to explain what was happening and kept us to speed. Our deepest gratitude to you all and Chris in particular."
"I would like to say a big thank you to you for making this whole process easy and relatively painless. You kept me informed throughout and you were always polite and courteous in all forms of communication. I would not hesitate to recommend you to friends and family, so a really big thank you and I wish you all the best in the future."
» Read More Medical Negligence Testimonials?

Free Birth Injury Guide