Birth Injury Articles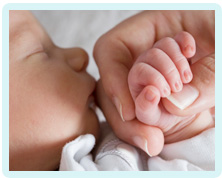 Third Degree Tear NHS
If you would like to sue the NHS for a third degree tear, please get in touch with our team of clinical negligence lawyers.
We are a specialist medical negligence law firm and can provide you with expert legal advice.
Suing the NHS
In order to sue the NHS, you need to prove the following:
1. Firstly that there has been a breach of duty on the part of the medical practitioners. For example, if a third degree tear is not diagnosed shortly after the delivery, there will be a breach of duty.
2. Secondly that a breach of duty caused you wrongful injury. For example, that a missed third degree tear led you to develop faecal urgency and incontinence. Had it not been for the breach of duty, you would not have suffered these injuries.
We can advise whether you have sufficient grounds to sue the NHS. Other common causes for a claim include a missed fourth degree tear, a poor repair, a negligent episiotomy and an untreated infection.
What will it cost to sue the NHS?
If we suggest that you are able to make a claim, you must decide if you want to continue with the litigation process. Just because you have good prospects of success does not mean that you have to claim. The decision is entirely yours to make.
Before making this decision, you will of course need to know about the funding options available. There are different possibilities which we will go through with you. Most of our claims are run on a 'no win no fee basis'.
No win no fee agreements are a popular funding option. They mean that the person making the claim (the Claimant) does not pay anything, should the claim be unsuccessful. If the claim is successful, the Claimant's lawyer is entitled to a success fee, which is deducted from the compensation settlement. However, this is limited to 25% of the damages.
How do I find out how to sue the NHS?
For more information about suing the NHS, be it for a third degree tear or something else, please contact us at Glynns Solicitors.
We are a niche medical negligence law firm and have a team of senior solicitors, all of whom are highly experienced in clinical negligence law. We offer everyone a free initial enquiry, so you can get expert legal advice completely free of charge.
Please call us on 0800 234 3300 (or from a mobile 01275 334030) or complete our Online Enquiry Form.

---