Birth Injury Articles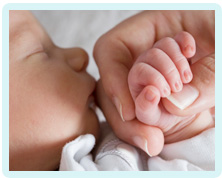 Third Degree Tear Medical Negligence
Third degree tears are a common source of litigation, with Claimant's successfully obtaining compensation for their injuries.
Why do third degree tears lead to compensation claims?
For the most part, third degree tear claims do not happen just because the injury has occurred.
Unfortunately third degree tears are part and parcel of childbirth. The injury does not affect everyone having a vaginal birth, but it is a known risk and it does happen. Therefore if you experienced a third degree tear, it does not mean that you have a claim.
The reason why third degree tear claims arise is because there has been some form of medical negligence that has contributed towards the tear, or has led to long-term complications.
Medical mistakes can contribute towards the occurrence of a third degree tear. This can include a mismanaged labour or a negligent episiotomy. A woman should not be allowed to labour for too long in the second stage. If the birth is not progressing, clinicians may need to resort to a C-section, or the patient could be put at increased risk of tearing. Similarly, a blunt episiotomy or a midline episiotomy (where the cut is made straight down) can directly cause a third degree tear.
Medical mistakes can also create long-term complications for the patient. The most frequent mistakes are a failure to diagnose the tear, a failure to diagnose the correct tear, and a failure to repair the tear to an adequate standard. All these things will leave a defect in the patient's anal sphincter, causing her to develop faecal urgency and incontinence.
Medical mistakes that create long-term complications are the most common source of third degree tear claims. More often than not, the Claimant's third degree tear was not diagnosed and repaired shortly after the birth.
Do you want to claim?
Are you thinking about claiming for your third degree tear? If so, the first step is to contact a medical negligence solicitor for an initial enquiry. We offer everyone a free initial consultation with a legal expert, so you can find out whether you have the grounds to pursue legal action.
If there is a case that warrants further investigation, we will handle the claim on your behalf, working to get the compensation you deserve. Your compensation settlement will reflect the pain and suffering you have wrongfully endured, and will recover all the money you have lost because of your injuries.
For more information on third degree tear medical negligence, please get in touch with us today.
Please call us on 0800 234 3300 (or from a mobile 01275 334030) or complete our Online Enquiry Form.

---