Birth Injury Articles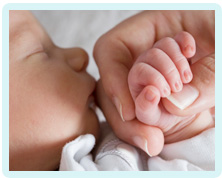 Third Degree Tear Labour
Most women will tear to some extent when giving birth, but only a small percentage will sustain a third degree tear – an extensive injury that runs from the vaginal opening and down into the anal sphincter.
Third degree tear during labour
Perineal tears will only affect women giving birth by way of vaginal delivery. There are different degrees of tear, with first and second degree tears being the least severe. Third and fourth degree tears are much more serious because they run into the anal sphincter complex, which can affect the patient's ability to control the passing of wind and faeces.
The majority of women will experience either a first or second degree tear. In fact, the Royal College of Obstetricians and Gynaecologists (RCOG) estimates that 90% of women will tear during birth, but only 9% will suffer a third or fourth degree tear. Therefore a relatively small number of women in the UK will have a third degree tear when giving birth.
Is a tear different to an episiotomy?
It is important to note that a perineal tear is different to an episiotomy. An episiotomy is a deliberate cut to the perineum, made in order to widen the vaginal opening. A perineal tear is when the perineum rips naturally when the baby's head and shoulders are delivered.
With an episiotomy, the cut should be made in a downwards, diagonal direction. This will prevent the cut extending down into the anus when the baby is delivered. If the cut is made straight downwards, the episiotomy can actually contribute towards the occurrence of a third degree tear.
What will happen if I have third degree tear?
If you suffer a third degree tear while giving birth, the injury will be diagnosed shortly after the delivery during a routine examination. You will then be sent to theatre (if you are not there already) for a repair. This will involve a surgeon stitching the wound back together. Afterwards you should be examined again to ensure the entire tear has been sutured.
Before leaving hospital you will be given some medication to take. This will include pain-relief, antibiotics to prevent infection, and stool-softeners. These will all help the healing process. You should be examined again after six weeks by a consultant. If you have any problems before then – such as a possible infection or faecal leakage – you should speak to your midwife or GP.
Third degree tear negligence
Third degree tears do lead to successful medical negligence claim. Normally these arise because the tear has been caused by a negligent episiotomy, the tear has not been diagnosed or has not been properly repaired.
If you would like more information on third degree tear claims, please get in touch with us today.
Please call us on 0800 234 3300 (or from a mobile 01275 334030) or complete our Online Enquiry Form.

---
Testimonials
"Before we contacted you we had no real idea that we had grounds for a medical negligence claim but after speaking to you if became clear that Wendy was indeed treated poorly. Chris took the time to explain what was happening and kept us to speed. Our deepest gratitude to you all and Chris in particular."
"I would like to say a big thank you to you for making this whole process easy and relatively painless. You kept me informed throughout and you were always polite and courteous in all forms of communication. I would not hesitate to recommend you to friends and family, so a really big thank you and I wish you all the best in the future."
» Read More Medical Negligence Testimonials?

Free Birth Injury Guide