Birth Injury Articles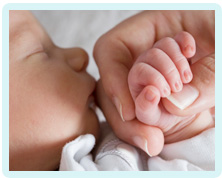 Third Degree Tear Infection/h1>
A third degree tear infection requires antibiotic treatment. If treatment is not given in time, the stitches can break down and create further injury.
Third degree tear infection
A third degree tear can become infected with bacteria. Normally this happens because germs spread from the anus to the perineum, something which can easily occur during the passing of a stool.
Measures can be employed to try to prevent an infection. For example, a patient with a 3rd degree tear should always be prescribed antibiotics before leaving hospital. Despite this, an infection may still arise.
The injury should also be kept clean and dry. The perineum must be washed on a daily basis, and further cleaning may be necessary after a bowel movement. It is important to gently pat the stitches dry, moving from front to back to avoid any contamination.
Drinking plenty of fluids and getting air to the wound will also promote healing.
Third degree tear infection symptoms
Even with good hygiene and medication, it is possible that an infection will develop. The symptoms of a third degree tear infection are:
A high temperature and feeling unwell
A sore and swollen perineum
A wound that is oozing
The breakdown of stitches
If you develop these symptoms, you need to tell your GP or midwife. A healthcare professional should immediately recognise them as the typical signs of infection.
Even if you do not report any problems, the signs of infection should be apparent to a midwife or doctor during any routine examinations that you have.
Once diagnosed, a patient should be given antibiotics. It is also important that doctors check to see if there is an underlying cause that requires treatment, such as a fistula.
Failure to recognise third degree tear infection
If medical practitioners fail to diagnose a third degree tear infection, there could be a case of medical negligence.
A medical negligence claim may also arise if antibiotics were not prescribed before a patient left hospital, or if a third degree tear was not properly diagnosed and repaired.
Want to know more?
If you would like to find out more about claiming compensation for a third degree tear, please do not hesitate to contact our team of solicitors. We specialise in medical negligence claims and will be more than happy to share our expert legal knowledge with you. All initial enquiries are free of charge and obligation.
Please call us on 0800 234 3300 (or from a mobile 01275 334030) or complete our Online Enquiry Form.

---