Birth Injury Articles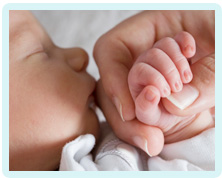 Third Degree Tear During Labour
A third degree tear is an injury that can happen during labour, more specifically during a vaginal delivery.
3rd degree tear labour
When a baby is born, the vaginal opening will stretch to accommodate the delivery of the head and shoulders. The body does incredible things to enable birth, and the perineum itself is very elastic and stretches to allow the passing of the baby.
However, sometimes the vaginal opening is not wide enough and the surrounding tissue will rip when the head/shoulders are delivered. Most women will experience some type of tear while giving birth, but the extent of these injuries can vary greatly.
Some women will only have a small tear involving the skin. But some will have a deep tear that goes all the way through the perineum and into the anal sphincter. These are classified as either 3rd or 4th degree tears. They are both severe injuries but do differ slightly.
A third degree tear is a laceration of the anal sphincters, as well as the vaginal epithelium, perineal skin, perineal body. Third degree tears can be further subdivided into:
3a: partial tear of the external sphincter involving less than 50% thickness;
3b: tear of the external sphincter involving more than 50% thickness;
3c: external and internal sphincter torn;
A fourth degree tear is the same as a third degree tear, but the injury extends to the tissue underneath (the anal epithelium). Therefore a 4th degree tear is a deeper tear.
Is this negligent?
The occurrence of a 3rd degree tear is not negligent in itself. It is a nasty injury, but it is one that can happen during labour. There are certain factors that increase the risk, such as a forceps delivery, but these cannot normally be predicted or prevented. Indeed, something such as a forceps delivery is needed to ensure the safe delivery of a baby, so it must be performed when necessary.
Why do 3rd degree tears lead to compensation claims?
However, it is true that 3rd degree tears regularly lead to a successful compensation claim. So why might you be able to claim for a 3rd degree tear (or even a 4th degree tear)?
Normally a claim will arise because there has been a delay in the diagnosis and repair of the tear.
There may also be a claim if the actions (or inactions) of medical practitioners directly contributed towards the tear happening. An example of this is a midline episiotomy, which should not be performed in England and Wales because they are known to increase the prevalence of 3rd degree tears.
Additionally there may be a claim if the tear was repaired, but the repair was of a poor standard.
Find out if you can claim
If you believe you could have grounds for a medical negligence claim in relation to a third or fourth degree tear, please get in touch. We can say whether you are able to claim compensation.
Please call us on 0800 234 3300 (or from a mobile 01275 334030) or complete our Online Enquiry Form.

---