Birth Injury Articles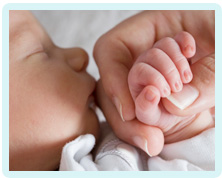 Third Degree Tear Complications
A third degree tear can affect a woman's bladder, bowel and sexual function. It is also susceptible to other problems, such as a wound infection.
Complications of a third degree tear
The following complications can arise after a third degree tear:
1. Infection
The tear is vulnerable to infection, particularly due to its proximity to the anus. If an infection is not treated quickly enough, the stitches can breakdown, adversely impacting upon the healing process.
2. Recto-vaginal fistula
A small hole can develop between the vagina and the rectum. This is opening is called a fistula and can arise after a traumatic birth. It will cause faeces to leak from the vaginal opening, which can in turn can lead to repeat infection.
3. Bladder dysfunction
After a vaginal birth the pelvic floor muscles can be very weak. This can result in urinary incontinence, especially when laughing, coughing or sneezing. Pads may have to be worn if the problem is very bad.
4. Bowel dysfunction
A third degree tear extends all the way down into the anal sphincter complex. This can make it difficult to control the passing of wind (flatus) and faeces, as the sphincter muscle has been weakened. This can result in faecal urgency, leakage or incontinence.
5. Sexual dysfunction
Ongoing pain and discomfort can make it hard to resume normal sexual relations. Some will also experience faecal leakage or incontinence due to the weakness of the anal sphincter. Sometimes anxiety and other psychological issues will contribute towards sexual dysfunction.
Will my third degree tear complications improve?
Bladder, bowel and sexual dysfunction can improve over time. Many women will make a complete recovery, although some will suffer permanent problems – usually with regards to incontinence of faeces and flatus.
Complications such as infection and a recto-vaginal fistula will need immediate medical treatment. If care is provided within a reasonable amount of time, the patient should not suffer any adverse effects. However, a fistula or infection left untreated will cause the stitches to breakdown, which can lead to ongoing issues.
Third degree tear claims
If you suffer complications after a third degree tear, medical practitioners must refer or treat you accordingly. This is very important as it can be the difference between a complete recovery and permanent life-changing symptoms.
If there is any reason why you think your care fell below an acceptable standard, and you believe this caused you to suffer avoidable injury, please get in touch. We are a team of medical negligence solicitors and can help you claim against those at fault.
Please call us on 0800 234 3300 (or from a mobile 01275 334030) or complete our Online Enquiry Form.

---
Testimonials
"Before we contacted you we had no real idea that we had grounds for a medical negligence claim but after speaking to you if became clear that Wendy was indeed treated poorly. Chris took the time to explain what was happening and kept us to speed. Our deepest gratitude to you all and Chris in particular."
"I would like to say a big thank you to you for making this whole process easy and relatively painless. You kept me informed throughout and you were always polite and courteous in all forms of communication. I would not hesitate to recommend you to friends and family, so a really big thank you and I wish you all the best in the future."
» Read More Medical Negligence Testimonials?

Free Birth Injury Guide