Birth Injury Articles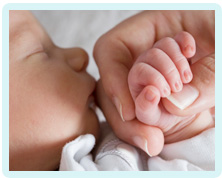 Third Degree Tear Bowel Problems
Are you experiencing bowel problems after suffering a third degree tear? This can be expected in the immediate aftermath of the birth, but if they persist there may be an underlying issue that requires further treatment.
Bowels problems after a third degree tear
A third degree tear is a perineal injury that extends down through the perineum and into the anal sphincter. Therefore it is not surprising that bowel function can be affected during the recovery process.
Due to the injury to the anal sphincter, it may be difficult to control the passing of wind (flatus) and faeces. You may need to rush to the bathroom when the urge to pass a stool arises, and there may be a spot of soiling or leakage.
With physiotherapy and time, these problems should disappear. The muscles will still be weak from the birth, and the tissue will still be healing back together. Thus it can take some time to get back to normal.
In order to allow the stitches to heal, you may initially prescribed medication to slow down your bowel movements. This can cause constipation. Afterwards you may be given stool-softeners, such as lactulose, to stop you from straining when passing a stool (which could damage your stitches). This can contribute towards your faecal urgency.
What if my bowel problems do not improve?
If your bowel problems do not improve, you need to go back to your doctor. There may be a different course of treatment you can try. Or there may even be an underlying problems which requires investigation and treatment.
There are cases in which a woman will experience ongoing bowel problems after giving birth, only to visit a specialist and be told that there is a missed tear. Sometimes a 3rd degree tear has been entirely missed and the injury is still present. Sometimes the wrong type of tear was diagnosed, meaning the part of the tear was left unstitched. And sometimes the repair will have been of a poor standard.
There are also other things that can cause persistent bowel problems after birth. For example, wound breakdown from an infection and severe sacral nerve damage.
It turns out I had a missed tear
However, a missed or poorly repaired tear is the most concerning because it means there has been a substandard level of maternity care. Tears should not go undiagnosed, and they should be repaired to an adequate standard. Anything below this level of care will amount to medical negligence.
If you have only just been diagnosed with a 3rd degree tear, or you have been told the repair was of a poor standard, you might want to speak to a solicitor. You could be entitled to compensation.
Please call us on 0800 234 3300 (or from a mobile 01275 334030) or complete our Online Enquiry Form.

---