Birth Injury Case Studies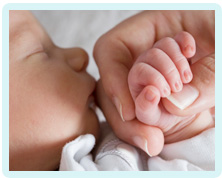 Swab Left Inside Vagina After Childbirth
Three days after giving birth, Alya found a swab inside her vagina. It had been left there during the delivery - something which is considered to be a 'never event'.
After going into labour in September 2009, Alya proceeded to have a traumatic birth. She had an epidural, which did not work, and her request for a C-section was refused. The baby had an abnormal heart rate and was passing meconium, which is a sign of distress. An episiotomy was performed and a boy was delivered with the help of a ventouse and forceps.
The baby was not breathing so he was taken immediately to the special care unit. This was obviously extremely traumatic but Alya had suffered a tear and an episiotomy so had to stay in the delivery suite to be stitched. Her son remained in the special care baby unit for a further three days, after which they were both discharged.
Despite being discharged, Alya still had to take her son to the hospital twice a day for antibiotics. It was during one of these visits that she began to feel really itchy inside her vagina. When Alya got home she examined herself in the shower, discovering that a swab had been left inside her. She rang the hospital who asked her to take the swab in.
She returned to hospital where she was examined and given antibiotics. No apology or explanation was given. Alya was told she had a Strep B infection, for which she was given more antibiotics. Another examination was carried out two months later which revealed that, because of the infection, the episiotomy wound had broken down. Alya then developed another infection, delaying the healing process even further.
The episiotomy wound was so badly affected that Alya required revision surgery. It took her a long time to recover, and it was another three months until she could resume a normal level of activity, and six months before she could resume sexual relations with her husband.
Alya also suffered psychologically and for the year following the birth was very depressed. She felt she had lost precious time with her baby while she was ill. She is also uncertain as to whether she will be able to have another baby - something she had desperately desired.
Along with the physical and emotional pain, Alya and her husband also sustained financial damage. Because of the ongoing complications, Alya was unable to return to her job. This has been a bitter blow to Alya who had a successful career. Her husband also had to take time off work to look after her and the newborn baby.
Feeling angry about the complications she had suffered, Alya contacted us to discuss her experience. We advised that under no circumstances is a retained swab acceptable. We suggested the hospital was directly responsible for the physical, emotional and financial pain she and her family had incurred, for which she deserved financial redress.
We helped Alya make a medical negligence claim and she was awarded over £40,000 compensation.
(Details which might identify our client have been changed.)
Can We Help You With A Birth Injury Enquiry?
If we can help you to make a claim for compensation you will benefit from the following funding options:
Conditional Fees ("no win, no fee")
Legal Expenses Insurance
Private Funding
Structured Payment Plans
Would You Like Assistance from Specialist Birth Injury Claims Solicitors?
If you would like to benefit from a service of excellence with total commitment to client care from a small and friendly team, Glynns are ready and waiting to help you.
Please call us on 0800 234 3300 (or from a mobile 01275 334030) or complete our Online Enquiry Form.

---