Birth Injury Articles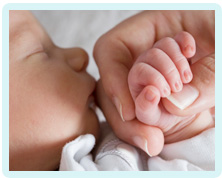 Severe Tear During Forceps Delivery
A severe tear during birth is more common in women who require a forceps delivery.
Forceps delivery
A forceps delivery will be needed if the baby has become stuck – for instance, the baby's shoulder can become stuck behind the pubic bone, a problem known as shoulder dystocia.
Alternatively a forceps delivery will be needed if the delivery needs to be expedited – perhaps because the delivery is not progressing at a normal rate, or because the mother/baby are showing signs of distress.
It involves applying two tongs to the baby's head and pulling the baby out during a contraction. Several pulls may be needed before the baby is delivered.
Forceps delivery and severe tears
A forceps delivery cannot necessarily be avoided, because if assistance is required in order to safely delivery the baby, it must be performed.
Forceps can cause significant damage to the perineum, so an episiotomy is usually performed just beforehand. This is a deliberate cut to the perineum and will allow more room for the forceps to be applied.
Unfortunately the perineum can still be severely damaged during a forceps birth, even with an episiotomy. The tissue can tear, and in some women this tear will extend all the way down through the perineum and into the anal sphincter. This will represent either a 3rd or 4th degree tear.
3rd degree tear after forceps delivery
Third and fourth degree tears are the worst types of perineal tear. A 3rd degree tear is when the perineum and anal sphincter is torn. A 4th degree tear is when the perineum, anal sphincter and the anal mucosa is torn.
A forceps delivery increases the risk of a 3rd degree tear considerably. There are also other things that increase the risk, such as:
A larger than average baby
A first-time vaginal delivery
Long second stage of labour
The labour was induced
Will the damage last?
If a 3rd degree tear does happen during a forceps delivery, the injury must be identified and repaired shortly afterwards. The repair must occur in theatre and be conducted by an experienced surgeon.
If an adequate repair is done soon after the birth, the damage should not last. Around 80% of women who have a 3rd degree tear will make a full recovery. However, the recovery process can take many months.
Unfortunately some women will suffer lasting damage after a 3rd degree tear. This is more likely to affect those who had a poor repair, or who did not have a repair because their injury was missed. This amounts to medical negligence, so if it has happened to you, you need to speak to a solicitor.
Expert legal advice
For more information on claiming compensation for a missed 3rd degree tear, or a poorly repaired 3rd degree tear, please contact us today.
Please call us on 0800 234 3300 (or from a mobile 01275 334030) or complete our Online Enquiry Form.

---
Testimonials
"Before we contacted you we had no real idea that we had grounds for a medical negligence claim but after speaking to you if became clear that Wendy was indeed treated poorly. Chris took the time to explain what was happening and kept us to speed. Our deepest gratitude to you all and Chris in particular."
"I would like to say a big thank you to you for making this whole process easy and relatively painless. You kept me informed throughout and you were always polite and courteous in all forms of communication. I would not hesitate to recommend you to friends and family, so a really big thank you and I wish you all the best in the future."
» Read More Medical Negligence Testimonials?

Free Birth Injury Guide