Third/Fourth Degree Tear Claims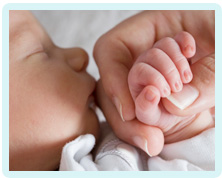 Compensation For Missed Third Degree Tear
Layla sustained a third degree tear during the birth of her first child, but this was not detected because medical practitioners failed to carry out a proper examination. Her injury was eventually diagnosed after she developed faecal incontinence.
In the spring of 2008, Layla went into labour with her first child. It was a long labour and after 18 hours the unborn baby began to show signs of distress. The midwife therefore decided to carry out an episiotomy to expedite the delivery. Shortly afterwards a healthy baby boy was born.
A registrar then began to suture Layla's episiotomy wound together. However, this took over three hours to complete as he kept leaving to attend to other patients in the delivery suite. At no point was a digital rectal examination performed, meaning the injury to Layla's sphincter went unnoticed.
Two days later, Layla was discharged from hospital. Prior to this she was examined by a midwife who stated that everything was alright and she was fit to go. This was reiterated by a community midwife and Layla's GP, both of whom said the episiotomy stitches were healing well.
Nevertheless, by the summer Layla noticed she was passing wind from her vagina. A month later she began suffering a loss of bowel control, resulting in faecal leakage during the day and night. She was so embarrassed she did not want to tell anyone. However, eventually the problem was so severe she sought advice from her GP.
During an examination, Layla's GP said she could see a hole in the front of her vagina. She became concerned that her episiotomy scar had not healed properly and referred her to a gynaecologist. After having appointments with a gynaecologist and colorectal surgeon, Layla was told she had a damaged anal rectal sphincter.
Further tests revealed that she had sustained a third degree tear during childbirth which had, until that point, remained undiagnosed. Layla was told she would need extensive surgery to repair the damage, and would require a colostomy bag for around eight months, after which the stoma would be reversed.
The news was devastating for the first-time mother. She didn't want to leave her son for too long, and was also horrified at the thought of needing a colostomy bag.
The surgery was performed and the stoma eventually reversed. Unfortunately this has not been 100% successful and she continues to have problems with faecal control. Because of these ongoing problems, she was forced to give up her career aspirations.
Layla has suffered a great deal as a result of the missed third degree tear, not only physically, but also emotionally and financially. The terrible impact faecal incontinence has had on her life could have been avoided had the registrar performed a digital rectal examination. The third degree tear would then have been diagnosed and repaired without a delay.
We helped Layla make a claim for her missed third degree tear. She was awarded in excess of £170,000 compensation.
(Details which might identify our client have been changed.)
Would You Like Assistance from Specialist Birth Injury Claims Solicitors?
If you would like to benefit from a service of excellence with total commitment to client care from a small and friendly team, Glynns are ready and waiting to help you.
Please call us on 0800 234 3300 (or from a mobile 01275 334030) or complete our Online Enquiry Form.

---
Testimonials
"Before we contacted you we had no real idea that we had grounds for a medical negligence claim but after speaking to you if became clear that Wendy was indeed treated poorly. Chris took the time to explain what was happening and kept us to speed. Our deepest gratitude to you all and Chris in particular."
"I would like to say a big thank you to you for making this whole process easy and relatively painless. You kept me informed throughout and you were always polite and courteous in all forms of communication. I would not hesitate to recommend you to friends and family, so a really big thank you and I wish you all the best in the future."
» Read More Medical Negligence Testimonials?

Free Birth Injury Guide