Birth Injury Case Studies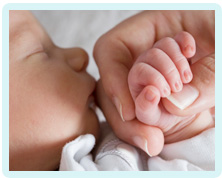 Retained Swab Found After Birth
Two months after giving birth, Marianna found a swab inside her vagina. It had been left there by the registrar who sutured her episiotomy wound and had been missed by the GP on two occasions.
In the spring of 2010, Marianna went into labour with her first child. The labour did not progress well and drugs were administered to induce the contractions. A suction cup was attached to the baby's head but the delivery was still proving difficult, so the registrar quickly performed an episiotomy. Shortly after a healthy baby girl was born.
The registrar then sutured the episiotomy wound together and Marianna was discharged from hospital two days later.
A week later, Marianna started to notice an itching and redness around her vaginal area. This got worse and she also began to experience a foul smelling discharge. She kept cleaning herself but this did not seem to have any effect.
She found it very difficult to sit in any position and could not breastfeed her baby as it was simply too uncomfortable.
These symptoms had still not cleared by the following month, so Marianna attended her GP. She examined the outer area of the vagina but did not do an internal examination. She said it was just an infection and should clear up with antibiotics. The medication did not work and Marianna's symptoms continued to worsen. She returned to her GP once again in mid-November but again the GP prescribed antibiotics, without doing an internal examination.
Shortly afterwards, Marianna found a medical swab inside her which appeared to have been left inside her from the episiotomy. She called the midwife who visited the following day to ensure no other foreign objects had been retained.
Once the swab was removed, Marianna's infection soon cleared up. Nevertheless, she suffered 12 weeks of pain and discharge. She could not properly bond with her baby during this time and could not breastfeed, as she had so desperately wanted. She had felt unable to leave the house in the months following the birth so could not attend any postnatal groups as she had hoped, and became alienated from her friends and family.
Marianna had to rely heavily upon her husband for help while she was unwell, particularly with regards to caring for the newborn baby. She continues to suffer, as the infection has made her particularly prone to thrush, something she never experienced previously.
We advised Marianna that she had been the victim of medical negligence. Not only had the hospital had been negligent in leaving a swab inside her vagina, the GP had twice failed to perform an internal examination, which would have secured an earlier diagnosis.
We helped Marianna make a medical negligence claim. She was awarded over £5,000 compensation.
(Details which might identify our client have been changed.)
Would You Like Assistance from Specialist Birth Injury Claims Solicitors?
If you would like to benefit from a service of excellence with total commitment to client care from a small and friendly team, Glynns are ready and waiting to help you.
Please call us on 0800 234 3300 (or from a mobile 01275 334030) or complete our Online Enquiry Form.

---