Birth Injury Case Studies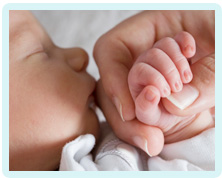 Registrar Misses 4th Degree Tear
Kareen expected the birth of her 1st child to be a positive experience but was left needing a colostomy after the Registrar failed to notice that she had suffered a 4th degree tear.
When her contractions began, Kareen went to her local hospital, hoping for a natural vaginal birth for her first child. After almost two hours of pushing, however, there had been little progress.
The attending Registrar decided to attempt delivery with the aid of a ventouse or suction cap. After this had twice proved unsuccessful, forceps were applied to the baby's head and a healthy baby girl was delivered. At some point during labour, an episiotomy - or cut to Kareen's perineum - had also been performed to try to ease the delivery.
On examination after the delivery, the Registrar noted that Kareen had suffered a third degree tear - that is a tear across her perineum and affecting her anal sphincter.
Three hours later, Kareen was transferred to an operating theatre where the same Registrar repaired her tear.
Kareen was sent home the following day but began to notice a discharge from her perineal area as well as pain and swelling. After a week, she returned to the hospital and was given antibiotics as it was believed that she had an infection. Kareen mentioned the discharge onto her sanitary pads, which she thought was faeces, but her concerns were dismissed.
A week later, Kareen attended an antenatal clinic, where she was told that, in fact, she had not received a third degree tear. She had suffered a 4th degree tear which had additionally affected the internal lining of her anus. She returned to hospital where, following further examination, she was informed that she had developed a fistula (or hole) between her anus and her perineum which was, indeed, allowing faeces to leak out of a defect at the base of her episiotomy.
Kareen was shocked by this information as there had previously been no suggestion that her problems might be caused by a fistula. In fact, because Kareen's 4th degree tear had not been diagnosed, there had been no repair of her internal anal sphincter and a defect remained, probably leading to the development of the fistula.
Kareen was horrified at the prospect but had to undergo a colostomy procedure and had a stoma fitted to collect her faeces.
Kareen was then transferred for specialist attention to a different hospital where, four months later, she underwent surgery for repair of the fistula.
Finally, a year after the birth of her child, Kareen had a third surgical procedure to reverse her colostomy.
Kareen has been left traumatised by the entire experience. She has had to undergo three otherwise unnecessary surgical procedures and has been left with an unsightly scar. For months, she was unable to care for her baby as she would have wished and had to rely on the support of her husband's parents. Furthermore, her second child had to be born via caesarean section, which she would not have wished.
Kareen need not have suffered a year of pain and distress had the Registrar sought the opinion and support of a more senior colleague at the outset, as Kareen's fourth degree tear would probably have been identified correctly. The Registrar should also not have undertaken her perineal tear repair unsupervised as this type of operation requires an experienced surgeon. Had a more experienced practitioner carried out the procedure, it is likely that the mistaken diagnosis would have been corrected.
Had this occurred, Kareen would probably not have developed a fistula or required a stoma and three surgical procedures.
Glynns supported Kareen in her claim for compensation against the relevant NHS Trust and she was awarded in excess of £40,000 compensation.
(Details which might identify our client have been changed.)
Would You Like Assistance from Specialist Birth Injury Claims Solicitors?
If you would like to benefit from a service of excellence with total commitment to client care from a small and friendly team, Glynns are ready and waiting to help you.
Please call us on 0800 234 3300 (or from a mobile 01275 334030) or complete our Online Enquiry Form.

---