Birth Injury Articles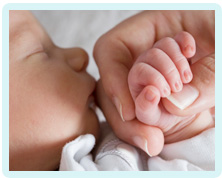 Reducing the Risk of Perineal Tearing
It is estimated that around 85% of women will tear during a vaginal delivery. But can anything be done to reduce the risk, or is it impossible to avoid?
Preventing perineal tears
It is not always possible to prevent a perineal tear as they are a natural consequence of childbirth. Nevertheless, things can be done to reduce the risk.
Evidence suggests that massaging the perineum during pregnancy can help to improve elasticity in the tissues. This can limit the chances of a perineal tear occurring, as the perineum is more likely to stretch when the baby's head and shoulders are delivered.
Medical practitioners have also started researching ways to limit perineal tears. The Royal College of Midwives and the Royal College of Obstetricians and Gynaecologists (RCOG) are working together for the first time in a bid to reduce perineal tears.
They have developed a new technique that protects the weakest point of the perineum from being damaged during a delivery. It is thought this will reduce the risk of severe tears – meaning 3rd and 4th degree tears. The technique is set to be used in several hospitals over the next two years.
Will I tear?
It cannot be predicted who will tear and who will not. Perineal massage can limit the risk, as can having a controlled birth where the second stage of labour is not too fast, but the active second stage of labour is not too long.
However, there are factors that increase the risk of a perineal tear, and there is little that can be done to avoid them. The factors that increase the risk of a tear include:
First time giving birth vaginally
Larger than average baby
Being induced
Having an epidural
Needing an assisted delivery with forceps or a ventouse
Being obese or overweight
Being over the age of 35
What will happen if I do tear?
If you do sustain a perineal tear while giving birth, the injury will be diagnosed during a routine examination after the birth. It should then be stitched back together. If the tear is quite small a midwife can perform the repair. But if it is a more severe tear, a repair will need to be done by a surgeon in theatre. Third and fourth degree tears will also require antibiotics, laxatives and a follow-up appointment.
If this standard of care is achieved, a full recovery can be made. But if there is a failure to diagnose or treat a perineal tear, problems with faecal urgency and incontinence can arise. If these symptoms occur because of medical errors, there could be grounds for a negligence claim.
Speak to a solicitor
If you would like to speak to a solicitor regarding a potential case of medical negligence, please get in touch with us today.
Please call us on 0800 234 3300 (or from a mobile 01275 334030) or complete our Online Enquiry Form.

---