Birth Injury Case Studies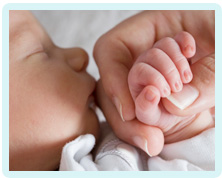 Recto-vaginal Fistula Prompts Successful Compensation Claim
An inaccurate diagnosis combined with an inadequate repair of her perineal injury has left our client with highly-distressing bowel problems.
When her waters broke, Sally attended hospital for the birth of her baby. After several hours, there had been little progress and it was decided to attempt an instrumental delivery. It was now more than 20 hours since Sally's waters had broken.
Forceps were applied, an episiotomy carried out and a healthy baby was born.
Following the birth, Sally underwent a rectal examination by the consultant obstetrician who identified a buttonhole tear which he defined as a 4th degree tear. A repair was carried out by the obstetrician and it was noted that Sally's anal sphincter muscles were undamaged.
Unfortunately, however, within two days of the birth of her baby, Sally began to experience leakage from her vagina.
This distressing occurrence continued and further examinations revealed that, indeed, faeces were present in the vagina, which should not have been the case had Sally's surgical repair been successful.
Nonetheless, Sally was discharged with antibiotics and a review of her condition was planned for six weeks later.
Sally continued to suffer discharge of faeces via her vagina prompting repeated urinary tract infections. She also began to experience loss of wind via the vagina. Understandably, these unpleasant symptoms were extremely distressing for her and began to impact on many aspects of her life.
A further review was planned at which an endoanal ultrasound identified that Sally still had a fistula, or passage, between the rectum and vagina which was allowing wind and faeces to pass into the vagina.
Eventually, eight months after the birth of her baby, Sally underwent further surgery to try to resolve her appalling symptoms. But, still she continued to suffer with debilitating and distressing symptoms.
Sally contacted us to discuss what had happened to her and we instructed a medical expert on her behalf. Upon examination of the records and meeting with Sally, he decided that the original diagnosis of Sally's injury as a 4th degree tear had been inaccurate and her initial repair had been inadequate.
Sally's life has been turned upside down by her experience. She has been unable to return to work following the birth of her child and feels unable to socialise due to her concerns about faecal leakage. Her life seems to revolve around her problems with her bowels.
Sally pursued a claim for her substandard care and received in excess of £250,000 in compensation.
(Details which might identify our client have been changed.)
Would You Like Assistance from Specialist Birth Injury Claims Solicitors?
If you would like to benefit from a service of excellence with total commitment to client care from a small and friendly team, Glynns are ready and waiting to help you.
Please call us on 0800 234 3300 (or from a mobile 01275 334030) or complete our Online Enquiry Form.

---