Birth Injury Articles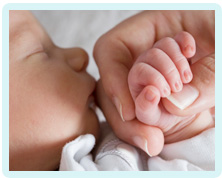 Pudendal Nerve Damage After Childbirth
The pudendal nerve is particularly vulnerable during childbirth. If it is damaged, it can lead to ongoing problems with regards to urinary incontinence, faecal incontinence and pelvic floor weakness. It can also lead to a medical negligence claim.
If you have suffered pudendal nerve damage during child birth please call us on 0800 234 3300 (or from a mobile 01275 334030) or complete our Online Enquiry Form.
"Lucy, I just wanted to say a massive thank you to you following the outcome of my case. I already feel so much better knowing that I have the funds to try and get better and that if things do get worse in the future, as a family as can manage financially. A huge weight has been lifted! Thank you so much for all your hard work and for the caring and sensitive way all matters were dealt with."
Ms R
What is the pudendal nerve?
The pudendal nerve is a nerve that runs from the lower back, through the pelvic and then branches off towards the rectum, perineum and clitoris. It provides sensation to the genitals, anus and perineum. It also enables function in the urethral sphincter and external anal sphincter.
How is the pudendal nerve damaged during childbirth?
Pudendal nerve damage is commonly associated with the vaginal delivery of a baby. Ordinarily this will happen during the second stage of labour when the baby is level with the ischial spine. This is because pudendal nerve curves around the ischial spine, leaving it exposed. As the baby passes it will stretch and pushing upon the nerve.
Pudendal nerve is therefore more likely if there is a prolonged active second stage of labour, meaning longer than 30 minutes. This was discovered in a study by Sultan and Fernando (2001), who also found that pudendal nerve damage is more likely to lead to pelvic organ prolapse.
What symptoms will pudendal nerve damage cause?
Because the pudendal nerve provides function and sensation to the genitals, perineum, urethral sphincter and external anal sphincter, it is these areas that will suffer. Urinary incontinence is the main symptom of pudendal nerve damage. It can also result in faecal incontinence and/or incontinence of wind.
The symptoms of pudendal nerve damage may arise within three months of giving birth. Alternatively they may occur a long time after giving birth. The menopause will often uncover underlying issues because hormonal changes cause muscle weakness, further weakening the pudendal nerve. Thus the late onset of symptoms is not abnormal with regards to pudendal nerve damage.
Pudendal nerve damage from mismanaged labour
Pudendal nerve damage is an unfortunate but accepted risk of vaginal delivery. It cannot normally be attributed to medical error, as it can be a natural consequence of childbirth.
However, there are examples of damage occurring due to the labour being mismanaged. For instance, the patient should not be allowed to labour for a prolonged period of time. If the second stage of labour is not progressing, clinicians should consider whether an emergency C-section is required.
Speak to a solicitor
If you believe you were harmed as a result of a poorly managed labour, please get in touch with us to find out if you have been the victim of negligence.
Please call us on 0800 234 3300 (or from a mobile 01275 334030) or complete our Online Enquiry Form.
"May I take this opportunity to thank you for all your hard work on my case, it has been very much appreciated and I would not hesitate to recommend Glynns to others. "
Mrs O, South Wales.

---
Testimonials
"Before we contacted you we had no real idea that we had grounds for a medical negligence claim but after speaking to you if became clear that Wendy was indeed treated poorly. Chris took the time to explain what was happening and kept us to speed. Our deepest gratitude to you all and Chris in particular."
"I would like to say a big thank you to you for making this whole process easy and relatively painless. You kept me informed throughout and you were always polite and courteous in all forms of communication. I would not hesitate to recommend you to friends and family, so a really big thank you and I wish you all the best in the future."
» Read More Medical Negligence Testimonials?

Free Birth Injury Guide