Birth Injury Case Studies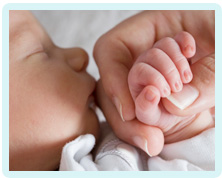 Father Suffers Psychological Injuries After Son Dies At Birth
When Matthew's partner gave birth to a baby boy, the delivery was negligently handled by medical staff, and their son tragically died just six hours later. Despite the hospital admitting liability, Matthew could not help but blame himself for his child's death, causing him to suffer devastating psychological injuries.
The pregnancy had been a difficult one and Matthew and his partner Miranda again became alarmed when, two months before her due date, Miranda started to bleed heavily. She was rushed into hospital and told she may have placental eruption. But despite this worrying diagnosis she was given no further treatment.
Two days later, Matthew was told his partner was in a stable condition, so he returned home to get some rest. He went to bed, but was woken up in the early hours of the morning by the hospital, who said he needed to attend the hospital immediately: Miranda was in labour. By the time he arrived, his baby son Harry had already been born.
However, there had been a number of complications. Medical staff had failed to perform an emergency caesarean section, instead allowing Miranda to have a distressed and rushed vaginal birth. Harry was seven weeks premature, weighed just 3lbs 14ozs, and was born in the breach position. As a result of these difficulties, he suffered hypoxic ischaemic encephalopathy, a condition in which cells in the brain and central cord are damaged from inadequate oxygen.
When Matthew arrived, he found Miranda in a state of despair. Neither of them knew what had happened. After a short time, a paediatrician came to see them and explained what had happened to Harry - he had been starved of oxygen and was unlikely to survive. He died six hours later. Matthew and Miranda were devastated, and stayed with their baby son for the next 30 hours.
After Harry's death, Matthew found it difficult to cope. He could not concentrate on his work and lost his job. He felt that as a father he had failed Harry, believing he should have done something to prevent his son's death. Consequently, Matthew became so depressed that his thoughts repeatedly turned to suicide, causing him to be admitted to a psychiatric unit on a number of occasions.
Glynns were already acting on behalf of Miranda, and in light of Matthew's severe psychological injuries, we suggested that he too could claim. He decided to pursue legal action, and was awarded over £18,000 compensation for the devastating impact the hospital's negligence had had on his life.
(Details which might identify our client have been changed.)
Can We Help You With A Birth Injury Enquiry?
If we can help you to make a claim for compensation you will benefit from the following funding options:
Conditional Fees ("no win, no fee")
Legal Expenses Insurance
Private Funding
Structured Payment Plans
Would You Like Assistance from Specialist Birth Injury Claims Solicitors?
If you would like to benefit from a service of excellence with total commitment to client care from a small and friendly team, Glynns are ready and waiting to help you.
Please call us on 0800 234 3300 (or from a mobile 01275 334030) or complete our Online Enquiry Form.

---