Birth Injury Articles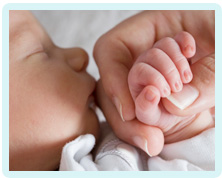 Pressure Ulcers When Giving Birth
According to a leaflet created by the NHS, there were 39 maternity-related pressure ulcer claims between 1 April 2009 and 31 March 2014.
Of these, 34 of the claims settled successfully, with the NHS having to pay a total of £566,272 in compensation damages to the victims.
How to pressure ulcers happen?
Pressure ulcers are also known as bed sores or pressure sores. They happen when an area of tissue is deprived of oxygen due to being placed under prolonged pressure.
The pressure will stop the blood getting to the tissue, and because blood carries oxygen, the tissue will become deficient in oxygen or 'ischaemic'. Tissue cannot live for long without oxygen and will soon begin to breakdown, resulting in a sore.
How to pressure ulcers happen when giving birth?
When giving birth, the mother may remain in the same position for a long time. This is particularly true if she has had an epidural or is undergoing a lengthy repair in theatre.
Staying in one position will put prevent the flow of blood to 'pressure points' across the body. This will vary according to the position, but if the patient is lying on her back, the buttocks, lower back, heels and elbows will be vulnerable.
Pressure ulcers are therefore more likely to occur during the delivery. This is confirmed by the statistics: of the 39 claims made 2009 and 2014, 21 happened on the labour ward, 11 happened in theatre and 2 happened in the post-natal period.
Pressure ulcer damage
There are different grades of pressure ulcer. A grade one pressure ulcer is the most minor, and a grade 4 pressure ulcer is the most severe.
Pressure ulcers can make life very difficult after having baby. The sore, or sores, will be painful and this can make it hard to breast-feed and generally perform child-care duties. The sore can take a long time to heal and will be susceptible to infection during this time. It can also leave unsightly scarring which can be distressing for the individual concerned.
Of the 39 claimants between 2009 and 2014, 17 women had a grade 3 pressure ulcer, and 5 women had two grade 3 pressure ulcers. Thus it is possible to sustain multiple pressure sores.
Can I make a claim for pressure sore during birth?
You should not sustain a pressure sore while giving birth. In fact, pressure ulcers are considered to be a 'never event', meaning they are entirely preventable with the correct safety measures.
If you developed one or more pressure ulcers while giving birth, you might be entitled pursue a claim against the hospital concerned. There were some common themes amongst the 39 claims described above, including:
Epidural
No risk assessment undertaken before the epidural
Poor record taking
To find out if you can make a claim for medical negligence, please get in touch with us at Glynns Solicitors.
Please call us on 0800 234 3300 (or from a mobile 01275 334030) or complete our Online Enquiry Form.

---