Birth Injury Case Studies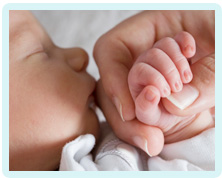 Pressure Sore Develops During Labour Leads To Compensation Settlement
Despite having a very long labour, medical professionals did not check Shona for pressures sores. It was only when she was stitched in theatre that the wound was noticed, and even then treatment was not given.
When Shona went into labour, she attended the maternity unit but was sent home. She returned the following morning and was told she was just 3cm dilated. By now she had a very high temperature and was in terrible pain, so she was shown to a bed and given pain-relief and a hot compress.
Hours later the midwife broke Shona's waters, during which time Shona complained of having a sore bottom. However, the midwife said this was because the baby was lying spine to spine and did not examine her further. In the afternoon an anaesthetist arrived to administer an epidural. Now being paralysed from the waist down, Shona could not feel anything but was still extremely hot and stressed.
This was noted by a senior doctor who visited Shona in the evening. He performed a vaginal examination and said the baby was distressed. The birth needed to be expedited so Shona was placed in stirrups and an episiotomy carried out. A healthy baby girl was delivered with forceps. The surgeon told the midwife there was a sore on Shona's bottom, but no further action was taken. She was then left alone for several hours in her bed.
Eventually she was taken back to the ward. Unfortunately the backrest on the bed was not secured properly and when Shona was feeding her baby it fell back, tearing open the sore on her bottom. This was extremely painful and she told the midwife, who was concerned enough to get a doctor. No dressing was put on the sore; however, Shona was put on intravenous antibiotics and painkillers.
Over the next two days Shona remained in bed. Her bed sheets were covered in blood but they were not changed. Her catheter was not emptied the whole time and her bottom was so painful she could barely sit, let alone get up and walk around. When the midwife examined Shona, she was clearly shocked at the sore on Shona's bottom. Even so, no treatment was given.
Once at home, she showed the sore to both her GP and the community midwife, both of whom were appalled. Her overall condition of health was also poor, as she was still weak and fragile from the prolonged labour and traumatic hospital stay.
It took a month just for Shona to be able to get in and out of the bath on her own. In the weeks following the birth she had to rely heavily on her husband and family, even with the most basic tasks such as washing and dressing. Although the wound has now healed over, there is still an unsightly raised scar some 14cm in length. Shona cannot sit down or exercise for long periods as it is still very painful.
All this has put Shona off having any more children. She has suffered great physical, emotional and financial damage because the hospital failed to check her pressure areas, and failed to provide treatment when a sore was identified. This is unacceptable and we helped Shona make a claim against the hospital in question. She was awarded £5,000 compensation.
(Details which might identify our client have been changed.)
Would You Like Assistance from Specialist Birth Injury Claims Solicitors?
If you would like to benefit from a service of excellence with total commitment to client care from a small and friendly team, Glynns are ready and waiting to help you.
Please call us on 0800 234 3300 (or from a mobile 01275 334030) or complete our Online Enquiry Form.

---