Birth Injury Articles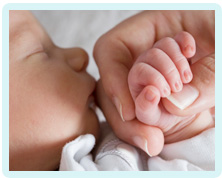 Physiotherapy for 3rd Degree Tear
In England and Wales, women who sustain a 3rd degree tear while giving birth should be referred to a women's health physiotherapy service.
Physiotherapy after 3rd degree tear
The purpose of physiotherapy after a 3rd degree tear is to strengthen the pelvic floor muscles.
The pelvic floor is a sheet of muscles which support the pelvic organs, including the bladder, uterus and rectum. The pelvic floor is stretched during the vaginal delivery of a baby, making it weak and reducing your ability to control your bladder and bowel.
Physiotherapy will aim to exercise the pelvic floor muscles, helping to strengthen them and therefore improve function. In time, physiotherapy should resolve any symptoms that have developed after the birth, such as urinary incontinence.
How long will my recovery take?
Everyone is different, so it is difficult to say exactly how long it will take for issues to resolve. Some will find they have recovered after just a few weeks, while some will find it takes months or even a year to feel back to normal.
During this time, it is important to continue with physiotherapy exercises. Your physiotherapist will show you what exercises to do, and explain how often you should do them. The good thing about pelvic floor exercises is that you can do them in the comfort of your own home.
At first it may feel like physiotherapy is not achieving much. This may be particularly shortly after the birth when the pelvic floor muscles can feel very numb. Sensation should return within a few days, and full function should hopefully return within weeks or months.
I've still got problems from a 3rd degree tear
If your symptoms do not resolve, despite pelvic floor exercise, you need to return to your GP. You can be referred for more physiotherapy, and you can also be referred to other specialists who will check that there is not an additional problem that requires treatment.
For example, sometimes the full length of the tear has not been repaired – either because the wrong type of tear was diagnosed, or because the surgeon missed part of the injury. Alternatively it may be that you have a 3rd degree tear which has, until now, remained undetected and unrepaired.
Such mistakes are not acceptable and if you are still suffering because of medical error, you should speak to a solicitor about making a claim. You could be entitled to compensation for the damage you have sustained.
Get in touch
To talk to a medical negligence solicitor, please get in touch with us at Glynns Solicitors.
Please call us on 0800 234 3300 (or from a mobile 01275 334030) or complete our Online Enquiry Form.

---
Testimonials
"Before we contacted you we had no real idea that we had grounds for a medical negligence claim but after speaking to you if became clear that Wendy was indeed treated poorly. Chris took the time to explain what was happening and kept us to speed. Our deepest gratitude to you all and Chris in particular."
"I would like to say a big thank you to you for making this whole process easy and relatively painless. You kept me informed throughout and you were always polite and courteous in all forms of communication. I would not hesitate to recommend you to friends and family, so a really big thank you and I wish you all the best in the future."
» Read More Medical Negligence Testimonials?

Free Birth Injury Guide