Birth Injury Case Studies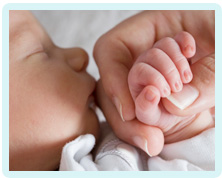 Negligently Fitted Implanon Device
Six months after having an Implanon contraceptive device fitted, Kelly began to display the classic signs of pregnancy. After undergoing several tests, it was found that not only was she pregnant, but that the contraceptive device had never actually been inserted.
Kelly had taken the oral contraceptive pill for a number of years, but was unhappy with the effects, particularly as it made her put on weight. She therefore began to research alternative methods of contraception, finally settling upon the contraceptive implant called Implanon. Both her friends and her GP had recommended it, saying it was extremely effective and had no unwelcome side effects.
She was keen to have the implant inserted as soon as possible, and so paid to attend a private specialist. At the appointment, however, Kelly was disturbed to find the doctor reading the instructions. She had been told the doctor was an expert and expected the implant to be inserted with ease. Unfortunately the appointment did not run as smoothly as Kelly had hoped. The specialist appeared to run into difficulties while fitting the implant, which afterwards could not be felt under the skin, as you should be able to. Another doctor was asked to try to locate the device with an ultrasound scanner, but still it could not be found.
Even so, the doctor was convinced the implant was correctly in place. To be absolutely certain, Kelly was asked to return to the clinic in two weeks to have a special ultrasound scan. This was duly carried out by a radiologist, who said the Implanon capsule could be identified on the scan. Kelly now felt reassured: two specialists had verified the presence of the Implanon implant in her arm.
She continued to have regular periods for the next five months. But towards the end of the year, she missed a period and began to feel unwell. Kelly attended her GP who confirmed she was seven weeks pregnant. She and her husband were extremely confused: they had not intended to have children and believed they were protected against unplanned pregnancies. They discussed their options at length and eventually decided to have the baby.
Kelly was immediately advised to have the implant removed, as little is known about what effects Implanon can have on an unborn child. However, the device could not be found in her arm. She attended several different doctors, none of whom could detect it. Kelly began to panic: she did not want her baby to suffer any harm. Eventually it was decided that the Implanon implant was either faulty or never inserted. The latter was later confirmed by a blood test, which showed the hormone released by Implanon was not present.
Unfortunately, shortly afterwards, Kelly suffered a miscarriage whilst on holiday. Both she and her husband were devastated.
Kelly contacted Glynns to discuss her case. We suggested that she take legal action, as she had been the victim of medical negligence. The Implanon device had evidently been negligently inserted, which in turn led to an unplanned pregnancy. It had also caused both her and her husband to suffer anxiety when it could not be found, as they did not want their child to be injured. Kelly believes that the stress this created directly contributed towards her miscarriage.
We helped Kelly make a claim and she received over £10,000 in compensation.
(Details which might identify our client have been changed.)
Would You Like Assistance from Specialist Birth Injury Claims Solicitors?
If you would like to benefit from a service of excellence with total commitment to client care from a small and friendly team, Glynns are ready and waiting to help you.
Please call us on 0800 234 3300 (or from a mobile 01275 334030) or complete our Online Enquiry Form.

hr />