Birth Injury Case Studies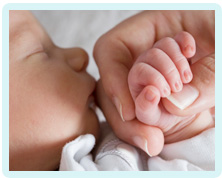 Negligent Stitching
While giving birth to her first child, Karen sustained a small perineal tear, which was subsequently sutured by the midwife. Soon after, however, Karen noticed there was a problem with her vaginal area – particularly in that there no longer seemed to be an entry.
In February 2006, Karen gave birth to her first child. As with many first-time mothers, she sustained a first degree perineal tear, as well as a left labial tear. Because this type of tear involves only the vaginal skin and not the underlying muscle, Karen's injury did not need to be repaired in theatre. Instead, she was sutured in the delivery suite by a midwife, who then performed a vaginal examination which was recorded as satisfactory.
Shortly afterwards, Karen felt that there continued to be a problem in her perineal area and so she reported this problem to her GP, who referred her to a specialist.
It was quickly discovered that her labia had sutured together, leaving only a 2cm opening. Karen was told she would need an operation, as the labia were so densely fused they could not be separated digitally. She later underwent surgery to divide her labia, which was done by way of diathermy (a surgical technique which uses the heat of electricity to cut tissue).
Thankfully, Karen's ability to have more children was not affected. Nevertheless, she felt upset that about the standard of care provided by the midwife, whose negligent stitching made an operation to separate her labia necessary.
After she contacted Glynns to discuss her case, we helped Karen to make a medical negligence claim. We began by reviewing her medical notes, before instructing a consultant obstetrician and gynaecologist to prepare a report. He concluded that the stitching to Karen's perineal tear had been incorrectly managed, but this would not have a long-term effect.
Although the NHS Litigation Authority did not admit liability, we settled Karen's case for £5,000.
(Details which might identify our client have been changed.)
Would You Like Assistance from Specialist Birth Injury Claims Solicitors?
If you would like to benefit from a service of excellence with total commitment to client care from a small and friendly team, Glynns are ready and waiting to help you.
Please call us on 0800 234 3300 (or from a mobile 01275 334030) or complete our Online Enquiry Form.

---