Birth Injury Case Studies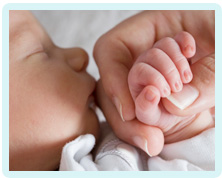 Negligent Care Leads to On-going Bowel Symptoms
An instrumental delivery of her baby with no episiotomy led to Ruth receiving a severe anal sphincter injury. Despite prompt diagnosis, the subsequent repair was inadequate and Ruth continues to experience appalling bowel problems.
Due to a slow labour, it was decided to try an instrumental delivery for Ruth's first child. Forceps were applied and the baby was successfully delivered but, unfortunately, an episiotomy had not been carried out and Ruth suffered a fourth degree tear.
Ruth's tear was promptly repaired by a registrar. However, despite having been reassured that her tear had been repaired, it soon became apparent that Ruth was still suffering significant symptoms as she began to experience faecal urgency, incontinence of wind and extreme pain.
As time passed, Ruth's symptoms worsened until, four months after the birth of her baby, she was suffering faecal incontinence on a daily basis.
Despite attempting to improve her symptoms with physiotherapy, Ruth continued to suffer faecal urgency and incontinence.
Eventually, she underwent an endoanal ultrasound scan which revealed both internal and external sphincter defects which would explain her on-going problems.
When Ruth approached Glynns to discuss the quality of her medical care, we instructed an expert to undertake and assess an ultrasound. Our expert found that Ruth had received a sub-standard and inadequate repair of her 4th degree tear.
In order to try to ease her symptoms, Ruth then underwent further surgery to attempt a more effective repair of her sphincter muscles which control the bowel. Unfortunately, this also meant that Ruth had to be fitted with a stoma bag via a colostomy to assist in the emptying of her bowels.
Had she not suffered a fourth degree tear, or had received a competent repair, secondary surgery would not have been necessary, let alone the fitting of a stoma bag.
Ruth's professional, social and personal life have been devastated by her negative experiences during the birth of her child. Had an episiotomy been undertaken before the instrumental delivery of her baby, it is quite possible that Ruth would never have suffered a 4th degree tear. Had her tear been repaired competently, she may have suffered no on-going symptoms at all.
As it is, Ruth continues to experience bowel problems. Her symptoms have made it very difficult for her to pursue her chosen career and she has suffered psychologically as a result of her distressing experiences and symptoms.
Glynns supported Ruth in her claim for compensation for the poor quality treatment she received during the birth of her child, and she received in excess of £800,000 in compensation.
(Details which might identify our client have been changed.)
Would You Like Assistance from Specialist Birth Injury Claims Solicitors?
If you would like to benefit from a service of excellence with total commitment to client care from a small and friendly team, Glynns are ready and waiting to help you.
Please call us on 0800 234 3300 (or from a mobile 01275 334030) or complete our Online Enquiry Form.

---