Birth Injury Articles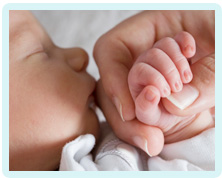 My 3rd Degree Tear Has Not Healed Properly
Are you still suffering from problems after a 3rd degree tear? If these problems were caused by medical mistakes, you could be entitled to claim compensation for the unnecessary pain and suffering you have endured.
3rd degree tear not healing
If your 3rd degree tear is not healing, there are certain things you can do to promote your recovery. These include pelvic floor exercises, keeping the area clean and dry, drinking lots of water and getting air to the stitches.
Even if you do all these things, it is possible that the 3rd degree tear will not heal properly. You may be suffering from symptoms such as:
Constant pain
Pain during sexual intercourse
Sore, smelly, oozing stitches
Incontinence to wind and faeces (poo)
Incontinence to urine
Faeces coming through the vagina
Some of these symptoms indicate that there is an underlying issue that requires treatment. For instance, sore/smelly/oozing stitches are signs of an infection, for which you need immediate antibiotics. Faeces coming through the vagina is a sign of a fistula, which will require a surgical repair.
Unfortunately pain and discomfort during sex can be associated with a 3rd degree tear. Sometimes this is in part due to the women feeling tense and nervous about the stitches ripping. Or it may be that a stitch is yet to dissolve. Again, medical advice should be sought as a doctor can check whether there is an obvious cause for the ongoing pain.
Incontinence to urine is caused by weak pelvic floor muscles and, in some cases, damage to the pudendal nerve. Further physiotherapy can usually help to improve this issue.
Symptoms such as faecal incontinence and the inability to control wind will be very embarrassing. A 3rd degree tear does injure the anal sphincter and it can become weaker than before the birth. This can create difficulties when trying to prevent the passing of wind.
However, faecal incontinence is not a 'normal' outcome and you should not assume that it is something that happens after giving birth. If you are suffering from faecal urgency or incontinence, you should speak to your GP about a referral to a colorectal surgeon or gynaecologist.
It may be that the tear was not repaired properly, meaning there is still a gap in your anal sphincter. Or it may be that you have a 3rd degree tear that you do not yet know about.
Conclusion
In conclusion, if you think your 3rd degree tear is not healing, you need to seek medical advice. It is important not to be embarrassed about your symptoms – GPs in the UK deal with these kind of issues regularly and can refer you to the right person. Similarly, you should not think that you have to put up with your symptoms – if there is a problem, it may be possible to resolve.
Lastly, if you find out that your problems have been caused by medical mistakes – such as a missed 3rd degree tear – you should speak to a solicitor. It is possible that you have been the victim of medical negligence.
Please call us on 0800 234 3300 (or from a mobile 01275 334030) or complete our Online Enquiry Form.

---
Testimonials
"Before we contacted you we had no real idea that we had grounds for a medical negligence claim but after speaking to you if became clear that Wendy was indeed treated poorly. Chris took the time to explain what was happening and kept us to speed. Our deepest gratitude to you all and Chris in particular."
"I would like to say a big thank you to you for making this whole process easy and relatively painless. You kept me informed throughout and you were always polite and courteous in all forms of communication. I would not hesitate to recommend you to friends and family, so a really big thank you and I wish you all the best in the future."
» Read More Medical Negligence Testimonials?

Free Birth Injury Guide